Ingredients for 4 servings
350g mixed salad
1 jar of Filetti di Sgombro grigliati all'olio di oliva Isola d'Oro
Some spoonfuls of plain whole milk yoghurt
1 spoonful of mustard
20 black olives
oregano to taste
1 handful of cherry tomatoes
12 walnuts
1 orange
oil to taste
salt to taste
pepper to taste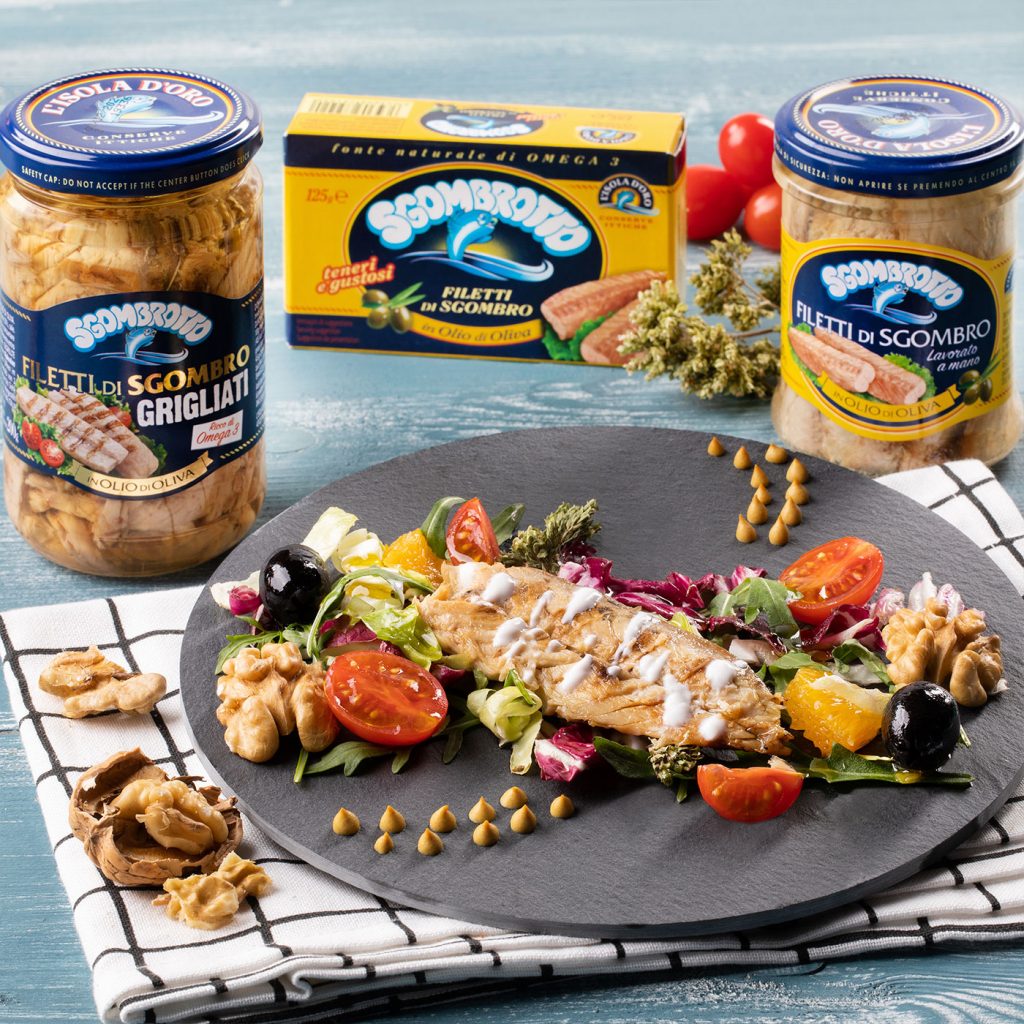 Preparation
Wash and dry the cherry tomatoes and salad; shell the walnuts, peel the orange and cut into wedges. Cut the cherry tomatoes in half; separately, dress the mixed salad with oil, salt and pepper.
Form a line of salad on the centre or side of the dish and garnish it with cherry tomatoes, black olives, orange wedges, walnuts, oregano and finally top with Filetti di sgombro grigliati all'olio di oliva Isola d'Oro.
Complete the salad with some whole milk yoghurt on top of the mackerel and some drops of mustard on the side.
MACKEREL RAINBOW SALAD Ingredients for 4 servings 350g mixed salad 1 jar of Filetti di Sgombro grigliati all'olio di oliva Isola d'Oro Some spoonfuls of plain

[…]

GREEK PITA BREAD WITH TZATZIKI SAUCE AND MACKEREL Ingredients for 4 servings 4 Pita bread pieces 200g cherry tomatoes Lamb's chicory 1 red Tropea onion 250g

[…]

GRILLED SGOMBROTTO WITH AVOCADO AND CORN SALAD Ingredients for 4 servings 1 jar of Sgombrotto grigliato 2 corncobs, boiled 100g cherry tomatoes 1 avocado, ripe 50g

[…]

BREAD WAFER WITH MIXED SALAD AND TONNOTTO Ingredients for 4 servings 400g Tonnotto 1 loaf of durum wheat bread 100g season's salad 4 radishes 12 cherry

[…]

GOURMET SALAD WITH GINGER TUNA Ingredients for 4 servings Variegated Radicchio 150g raspberries 200g Greek feta cheese 40g pine nuts 2 courgettes Watercress 1 jar of

[…]

COUSCOUS WITH EDAMAME BEANS AND MACKEREL Ingredients for 4 servings 300g medium couscous 300ml water 250g edamame soy beans, frozen 200g cherry tomatoes 1 mango 250g

[…]