PACCHERI PASTA WITH SEAFOOD AND TOMATOES
Ingredients for 4 servings
320g Paccheri pasta
2 packs of seafood sauce
200g Datterini tomatoes
300g clams
250g mussels
200g squids
extra virgin olive oil as needed
parsley, chili, salt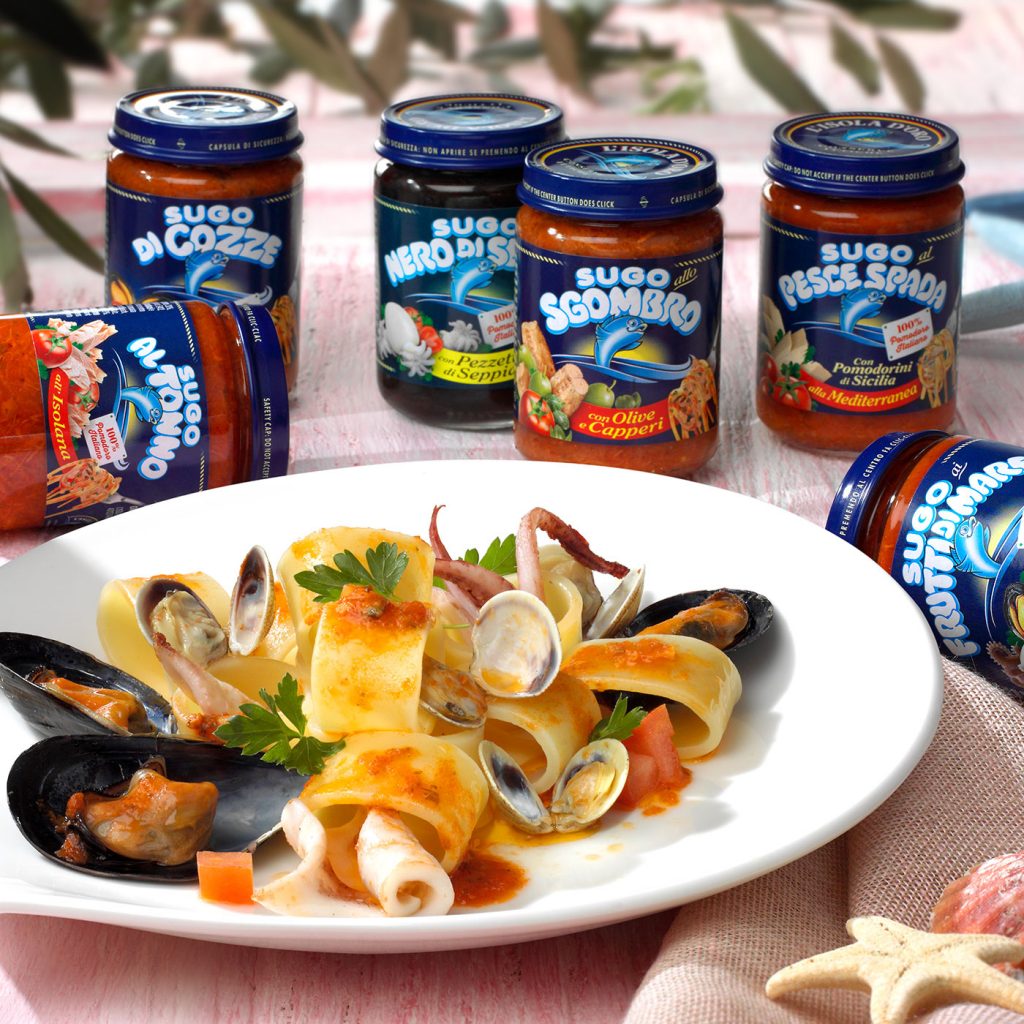 Preparation
Wash clams and mussels thoroughly, remove the broken or open ones and cook them in a frying pan with lid for the time needed for the shells to open.
Filter the liquid using a gauze or fine colander.
Shell 3/4 of the mussels and clams, then put them in the filtered cooking liquid.
Clean the squids, cut the body into small diamond-shaped pieces and the tentacles into pieces.
Dice the tomatoes.
In a large pan, warm up the oil, add the squids and after 2 minutes the tomatoes. Adjust flavour with a pinch of chili pepper, then add this sauce to mussels and clams.
Complete with a generous helping of chopped parsley and turn off the heat.
Cook pasta in plenty of salted water, drain it and pour it into the sauce adding a ladleful of cooking water if necessary.
Cook pasta over high heat for some minutes whilst stirring so that the sauce binds to it.
PACCHERI PASTA WITH SEAFOOD AND TOMATOES Ingredients for 4 servings 320g Paccheri pasta 2 packs of seafood sauce 200g Datterini tomatoes 300g clams 250g mussels 200g

[…]

SPAGHETTI WITH SQUID INK AND BOTTARGA Ingredients for 4 servings 350g spaghetti 1 jar of Sugo al nero di seppia Isola d'Oro 1 handful of cherry

[…]

POTATO VELOUTE' WITH CLAMS AND MUSSELS Ingredients for 4 servings 600g boiled potatoes 750ml/1 litre vegetable stock 1 jar of Vongolotte al naturale Isola d'Oro 1

[…]

CALAMARATA PASTA WITH CREAM OF PUMPKIN AND VONGOLOTTE Ingredients for 4 servings 320g Calamarata pasta Half Delica pumpkin Vegetable stock 190g jar clams Black pepper Extra

[…]

RISOTTO ALLA PESCATORA Ingredients for 4 servings 320g Carnaroli rice 1 litre vegetable stock White wine to douse as needed 1 jar of Sugo rosso alla

[…]