CEREAL FOCACCIA WITH STRACCIATELLA CHEESE AND ANCHOVIES FROM THE CANTABRIAN SEA
Ingredients for 4 servings
250g cereal flour (rye, oats, common wheat, barley)
150g water at room temperature
2.5g fresh brewer's yeast
6g fine salt
12.5g extra virgin olive oil
250g Stracciatella cheese
One 80g jar of anchovies from the Cantabrian Sea
Pink peppercorns
Extra virgin olive oil
Valerian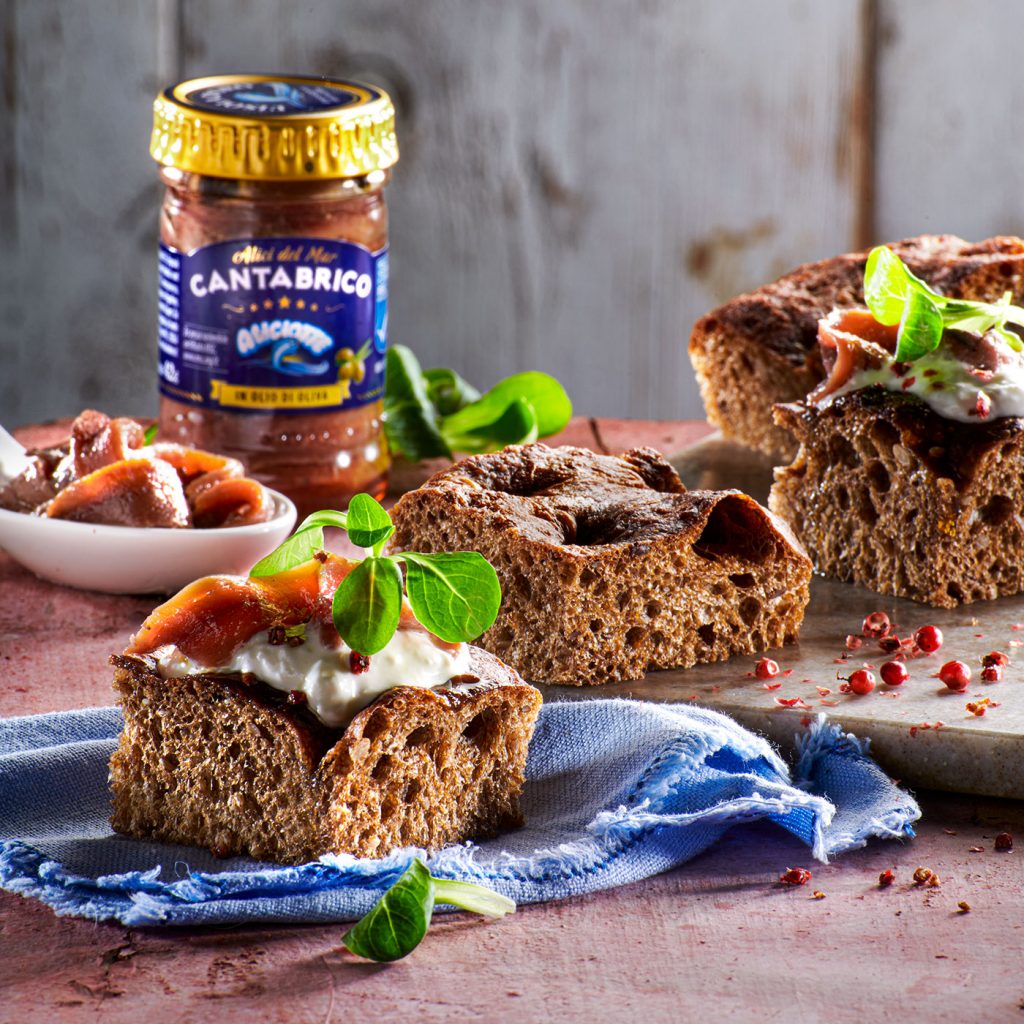 Preparation
Prepare the dough by adding in a planetary mixer the flour, yeast, water and the oil, and blend for 2 minutes.
Add the salt and mix for another 2 minutes.
Cover the dough with film and make sure it does not touch the dough, then let it prove for about 1 hour.
Stretch the dough on the bottom of a greased baking sheet, use your fingers to spread it, brush with oil and salt and let it prove until double in size still covered with the film.
Cook in a preheated oven at 220°C for about 18 minutes.
Slice the focaccia and stuff it with the stracciatella cheese, pink peppercorns, valerian, the anchovies from the Cantabrian Sea and a ribbon of extra virgin olive oil.
CEREAL FOCACCIA WITH STRACCIATELLA CHEESE AND ANCHOVIES FROM THE CANTABRIAN SEA Ingredients for 4 servings 250g cereal flour (rye, oats, common wheat, barley) 150g water at

[…]

SALTED ANCHOVIES WITH EXTRA VIRGIN OLIVE OIL AND GOAD CHEESE FLAVOURED WITH HERBS AND FLOWERS Ingredients for 4 servings Salted Anchovies 300g goat cheese 1 lemon

[…]

GRILLED TUNA FINGER FOODS Ingredients for 4 servings 1 jar of Filetti di Tonno grigliati all'olio di oliva Isola d'Oro some spoonfuls of mayonnaise 1 package

[…]

GREEK PITA BREAD WITH TZATZIKI SAUCE AND MACKEREL Ingredients for 4 servings 4 Pita bread pieces 200g cherry tomatoes Lamb's chicory 1 red Tropea onion 250g

[…]

ANCHOVY ROLLS WITH MEDITERRANEAN AROMAS Ingredients for 4 servings 1 jar of Filetti di acciughe in olio di oliva Isola d'Oro Feta cheese to taste 4

[…]

BREAD WAFER WITH MIXED SALAD AND TONNOTTO Ingredients for 4 servings 400g Tonnotto 1 loaf of durum wheat bread 100g season's salad 4 radishes 12 cherry

[…]

SMALL FOCACCIAS WITH COURGETTE FLOWERS, CRESCENZA CHEESE AND ANCHOVY FILLETS Ingredients for 16 small focaccias 1 ready focaccia of about 20×20 cm in size 150g Crescenza

[…]