SPAGHETTI WITH SQUID INK AND BOTTARGA
Ingredients for 4 servings
350g spaghetti
1 jar of Sugo al nero di seppia Isola d'Oro
1 handful of cherry tomatoes
4-5 spoonfuls basil pesto
Bottarga di tonno grattugiata Isola d'Oro to taste
extra virgin olive oil as needed
2-3 cloves of garlic
salt to taste
pepper to taste
sugar to taste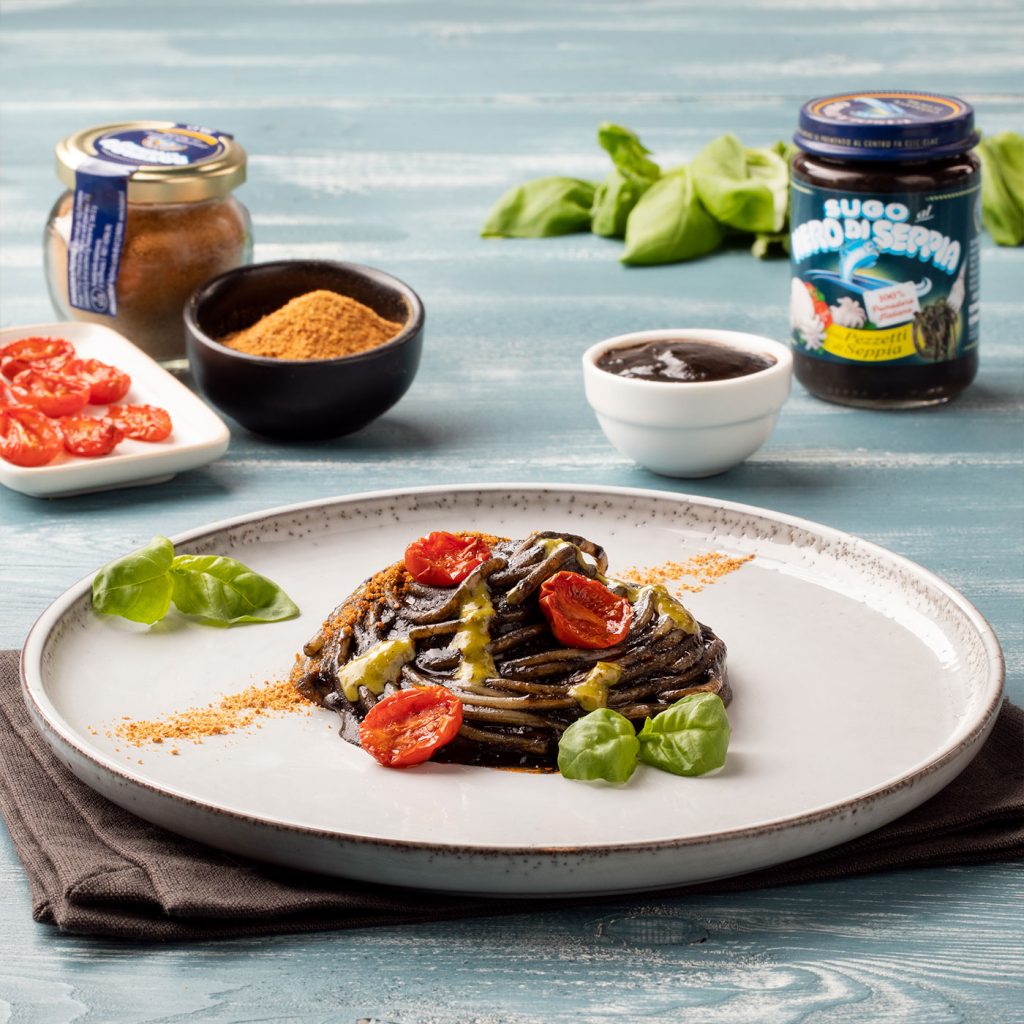 Preparation
First of all, pre-heat the static oven to 140-150°C.
Meanwhile wash the cherry tomatoes, dry and cut them in half arranging face up on a baking tin lined with baking paper.
Adjust salt and pepper, add a dribble of oil, a dusting of sugar, 2-3 halves of garlic cloves then put in the medium to high part of the oven for about 2 hours until the tomatoes have released most of their water and look wrinkled.
Bring the cooking water to the boil in a pot and add salt.
In a frying pan prepare the sauce; brown the clove of garlic in a dribble of oil, then add the Sugo al nero di seppia Isola d'Oro.
Adjust salt and pepper, then add some teaspoons of basil pesto to give a light flavour touch that will be strengthened by the final garnishing.
Boil the Spaghetti until al dente, then complete cooking in the frying pan with the sauce adding some ladlefuls of cooking water if needed to keep the pasta creamy until cooked through.
Remove the garlic.
In a little bowl, dilute some tablespoons of basil pesto with a bit of cooking water and set aside to be used for garnishing.
Form a nest of Spaghetti in the centre of each dish and garnish with the diluted basil pesto, confit tomatoes and a generous dusting of Bottarga.
Serve hot.