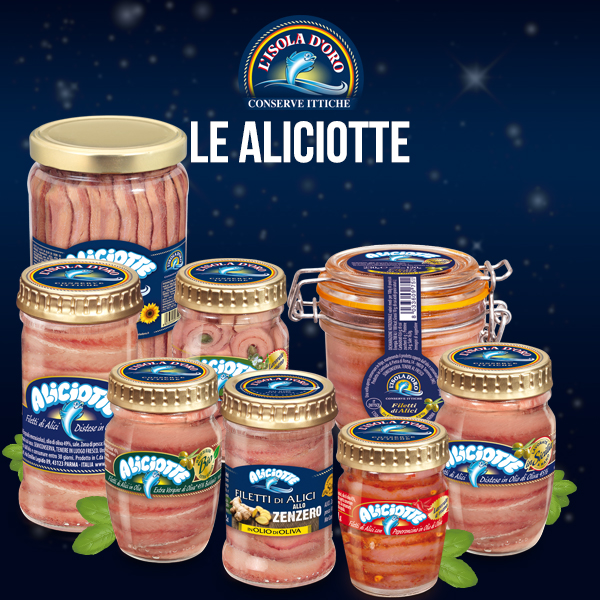 L'ISOLA D'ORO, and the true story of anchovies in glass. - 2019
---
An all-Italian story that began in 1958, when Ferruccio Zarotti, founding partner of L'Isola D'Oro, understood the desire and the need to promote anchovies and to highlight their long and complex processing cycle, which is carried out entirely by hand from fishing to packaging, from salting to filleting. Until that time, anchovies had been sold in large or small tinplate cans. stagnata.
---
The ring-pull aluminium cans were first introduced in the 1970s. But experience, passion, deep knowledge of the raw materials and intuition for innovation led Ferruccio Zarotti to decide on a change of direction. The market was ready, the raw material required it. It was the elegant transparency of glass that gave value and meaning to the ancient, expert Italian artisanal art of the manual processing of anchovies.
---
It was the time of the industrial boom, when the growing importance of supermarkets in Italy and in Europe increased the need for more attractive and appealing packaging to display on the shelves for direct sale to consumers. Ferruccio Zarotti's idea was to choose the Bormioli glassworks, located in Parma, as a partner in the development of his project. In 1958, the first glass jar of what would become a worldwide industrial production of anchovies preserved in oil was manufactured in Parma.
---
Thanks to this market innovation, anchovies in oil - a typically Mediterranean product with remarkable nutritional properties and great versatility in the kitchen - quickly became successful all over the world, showcasing the processed raw material in the best possible way.
---
The tender and fragrant L'Isola D'Oro anchovy fillets are still today desalted, boned and cleaned by hand and with care according to tradition. Carefully arranged in glass jars, they are perfectly preserved in olive oil to keep their aroma, authentic flavour and organoleptic features intact.