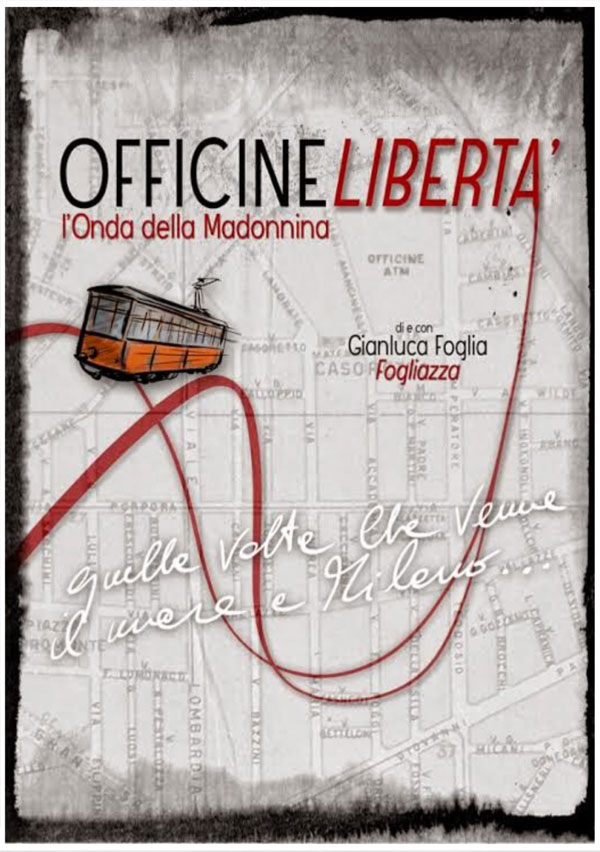 Officine libertà – l'onda della Madonnina - 2014
---
"...the time the sea came to Milan" on the crest of the wave of the storytelling and creative verve of Gianluca Foglia, aka "Fogliazza"
---
Parma-based L'Isola D'Oro, a fish preserves company that has always pursued an unconventional type of communication, yet close to Italian culture and history, has chosen to support a show of great pedagogical value and artistic depth, an expression of historical-social drama. This important sounding board serves to remind those who did not experience them of the intensity of the events being represented and of the extent of their cascading effects; a great opportunity of intergenerational relationship aimed at the young, so that they can restore to us and to themselves what deserves to be remembered, teaching us something more.
---
In this historical and social time, it is important for all of us - entrepreneurs as well as workers and students - to draw inspiration from acts of courage. We need examples that are as powerful as they are real! Pursuing freedom, believing in yourself and in your ideas, protecting yourself and your ideas, being resilient in bad times without offending and without destroying, standing firmly and consistently by the weak against abuse, defending the inalienable rights of each individual as granted by the Italian Constitution, but also as taught by common sense and by the ability to relate with others in a civil and appropriate way.
---
In short, if you want things to work you need to become personally involved. The "scales" of personal interest, fear and hypocrisy do not create progress and do not make civilizations develop. We need to act and to act well, quickly, competently and bravely!
---
The moral message emerges without sermonizing from the narration and Fogliazza's verve closes the distance between spectators and historical events and brings the story back to our times by removing temporal boundaries.