SGOMBROTTO
All the goodness of mackerel
to taste as you like it
L'Isola D'Oro mackerel is 100% Italian. It is rich in Omega-3, gluten-free and GMO-free.
We only use quality raw materials, respecting the ecosystem and the seabed, in agreement with our major partners in the field of sustainability: Friend of the Sea and MSC.
Our mackerel fillets, which are soft and compact, are first selected, then cleaned with a knife by expert hands, and finally laid out, one by one, in the different packages, to mature in oil.
Everyone likes our mackerel because it is tasty, digestible and above all "good".
We offer a range of traditional and innovative formats to meet the needs and desires of consumers at home and away from home.
Our product lines are oriented towards both the retail and the on-trade channels.
Ours is a story of transparency that has been steeped in the age-old tradition of fish canning for a good 70 years.
Always delicious
whether in a salad or a simple sandwich.
L'Isola D'Oro mackerel fillets are cleaned and packaged by hand according to the Italian seafood canning tradition.
They are presented in their natural elongated shape, lying
in olive oil or au naturel.
Thanks to the nutritional and organoleptic values of oily fish, mackerel is to all intents and purposes a healthy choice combined with an exquisite taste and a soft fragrance on the palate.
Together with cooked, raw or grilled seasonal vegetables, it makes an excellent main course. It is also a pleasant raw solution for pasta and rice, perhaps with the addition of pine nuts, rosemary, mint and almonds.
MACKEREL FILLETS IN OLIVE OIL
Cleaned and packaged by hand, the mackerel fillets are presented in their natural elongated shape in glass jars or boxes, lying in olive oil.
Due to their nutritional and organoleptic values, they are an excellent second course with a considerable intake of proteins, omega-3 minerals and the added value of an exquisite and inviting taste.
FILETTI DI SGOMBRO GRIGLIATI IN OLIO DI OLIVA
Mackerel fillets, a natural source of protein and naturally rich in omega-3, become extremely delicious after being lightly grilled and then placed in olive oil.
MACKEREL FILLETS IN BRINE
From a powerful market demand, natural mackerel fillets are made. This product, a niche for connoisseurs and lovers of wellness combined with a healthy and balanced style, is presented in glass, showing the integrity and perfect cleanliness of the fillet of fish, netted, processed and placed in the package by hand.
Lo Sgombrotto al naturale è adatto a grandi e piccini, raccomandato per chi vuole o deve sottostare a regimi dietetici.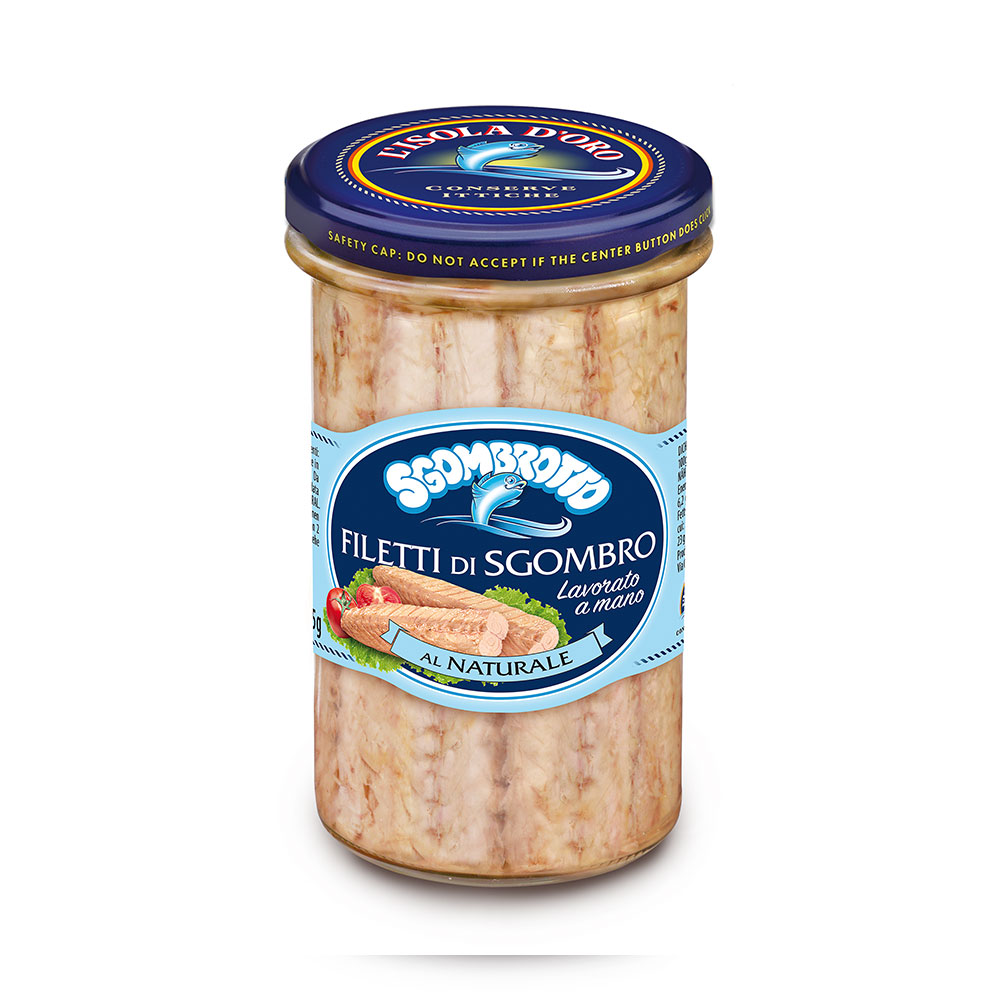 Sgombrotto in brine 250 g