TONNOTTO
All the goodness of tuna
to taste as you like it
L'Isola D'Oro Tuna Fish is a100% Italian product. It is rich in Omega3, Gluten free and Gmo free.
We use first quality row material only, respecting the ecosystem and oceanfloor, according to the agreement with Friend of the Sea and MSC.
Our tuna-filets, tender and compact, are first selected then knife-cured by expert hands and finally placed one by one into their containers in oil.
Everybody's love our Tuna Fish because it is sweet, digestible and so "good"!
We offer a large choice of traditional tools as well as innovative ones directly tuned to meet customers' desires and demands,
both outdoor and home needs.
Our catalogue lines are oriented to the retail as well as to horeca markets.
Our business story is based on transparency which is immersed in thousand-year old Italian culture and tradition.
The same that has been driving us for 70 years.
GOOD, HEALTHY AND GENUINE.
TONNOTTO IS ALWAYS PERFECT
TONNOTTO means refined tuna fillets, whole and tender and accurately selected.
They are processed by hand and put, one by one, in their retail or foodservice pack. Ready to be enjoyed on any occasion.
L'ISOLA D'ORO offers them in brine, in olive oil, grilled or enriched with spices and flavourings of the great Mediterranean seafood tradition.
It is a versatile product, ideal as the main ingredient in healthy salads and one-course meals with seasonal vegetables.
It can be used as a sauce for refined first courses with high nutritional value, energy snacks and functional starters.
TUNA FILLETS IN OLIVE OIL
Delicate fillets of carefully selected tuna, steamed to be soft and fragrant, hand-soaked in olive oil and ready to be served and enjoyed on their own, or accompanied in a thousand ways that your imagination suggests.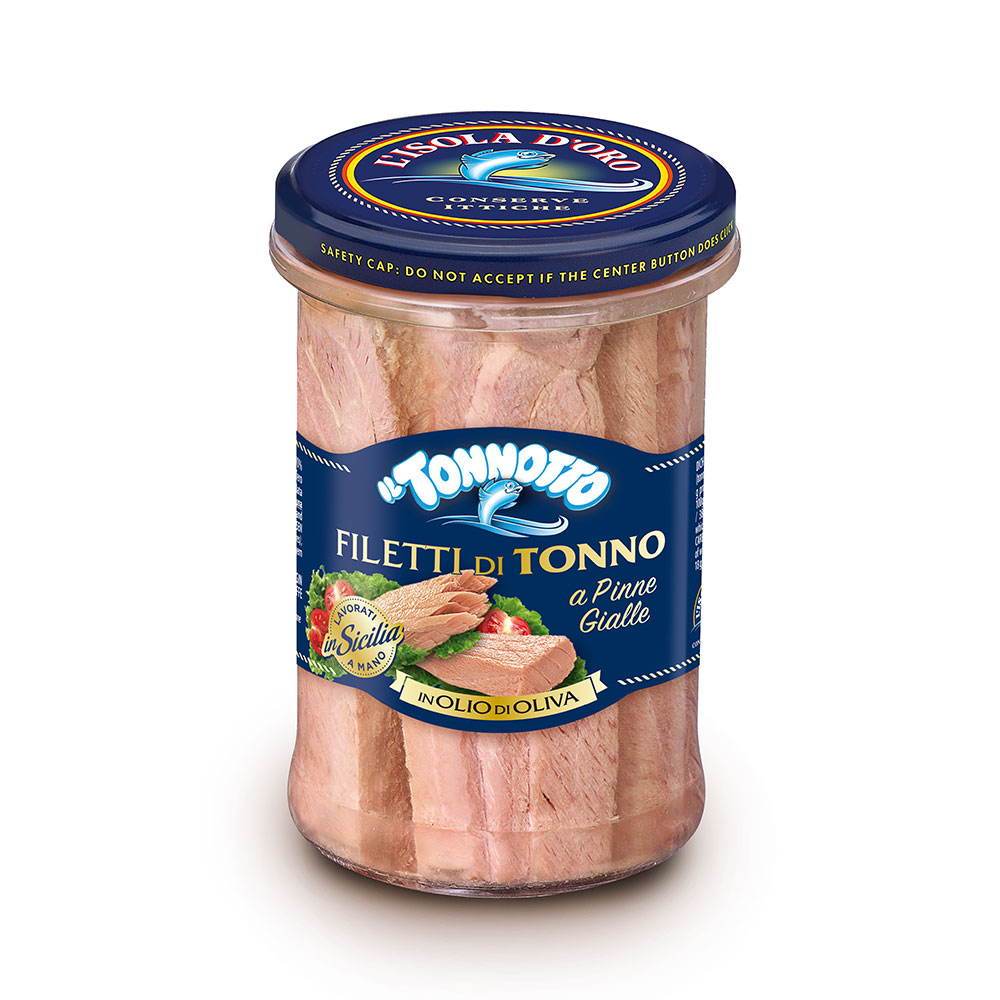 Tonnotto 300 g Organic oil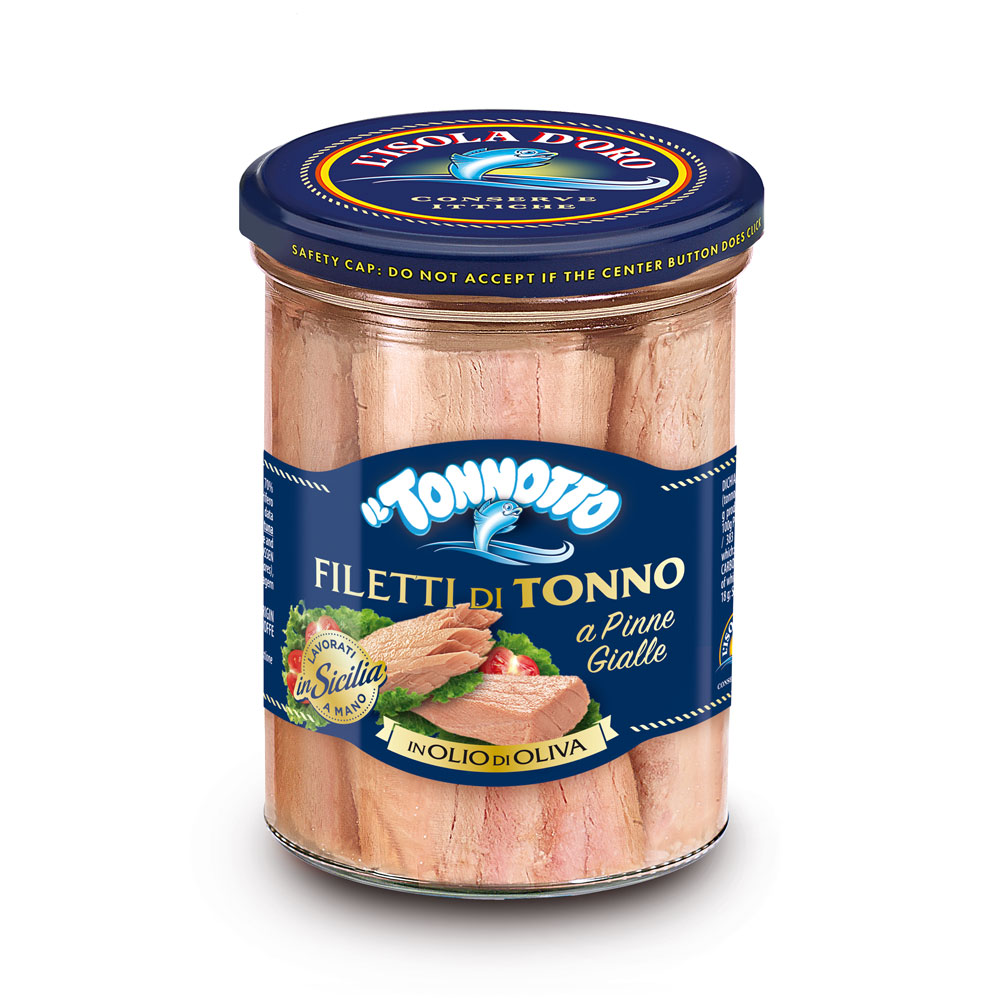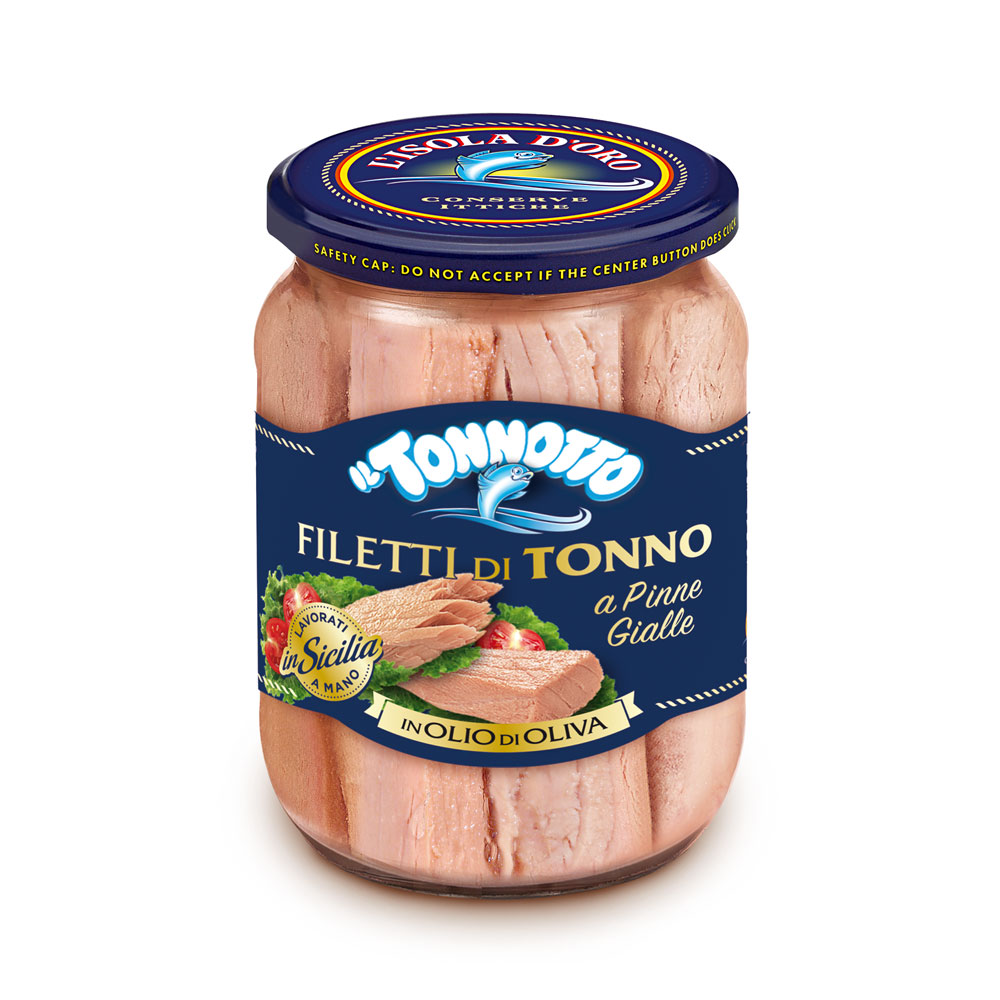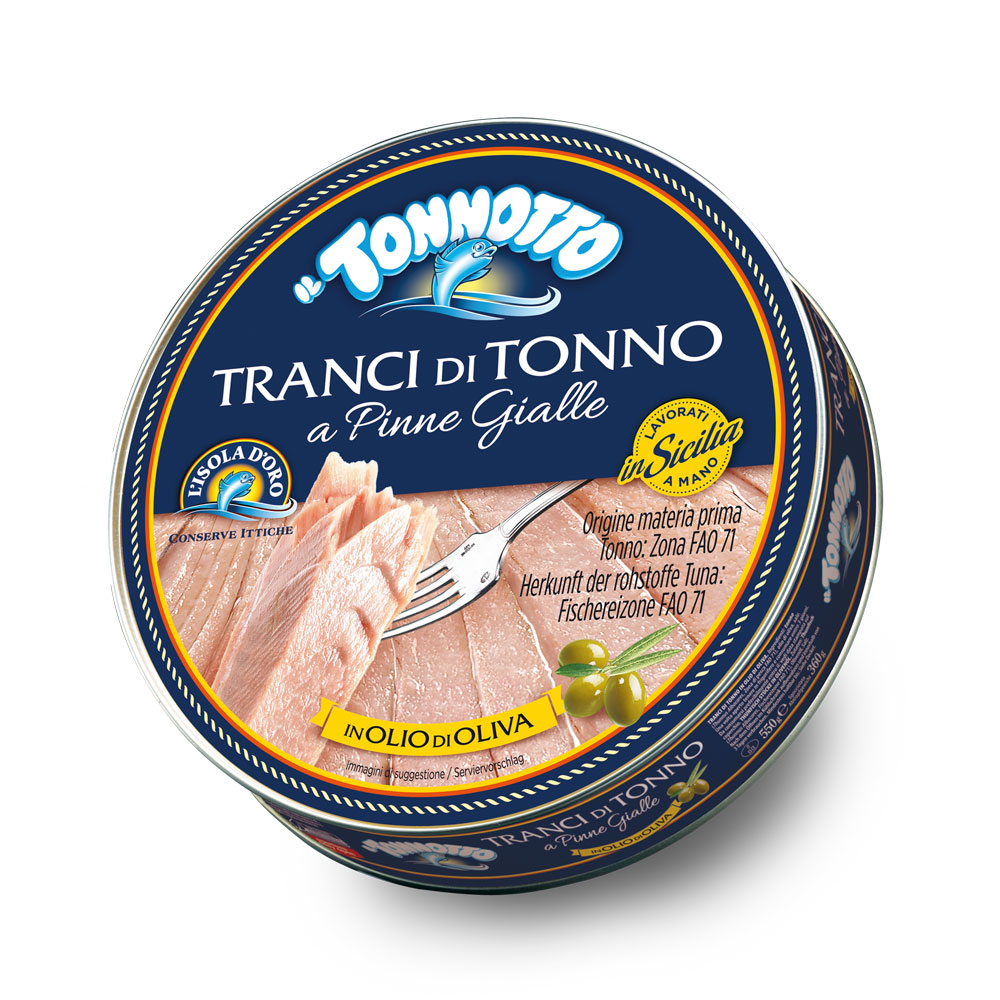 Tonnotto
Tamburello 550 g
For all those who want to taste the flavor of tuna fillets without any additions there is the Tonnotto in brine. Perfect tuna fillets packaged by hand one by one, fresh, genuine and rich in all the best organoleptic properties of this extraordinary food.
Tasty and original, the tuna fillets with ginger, chilli and garlic and parsley are perfect for the finest palates and to give that extra touch to any occasion.
The already tasty yellow fin tuna fillets become irresistible once grilled and placed in olive oil.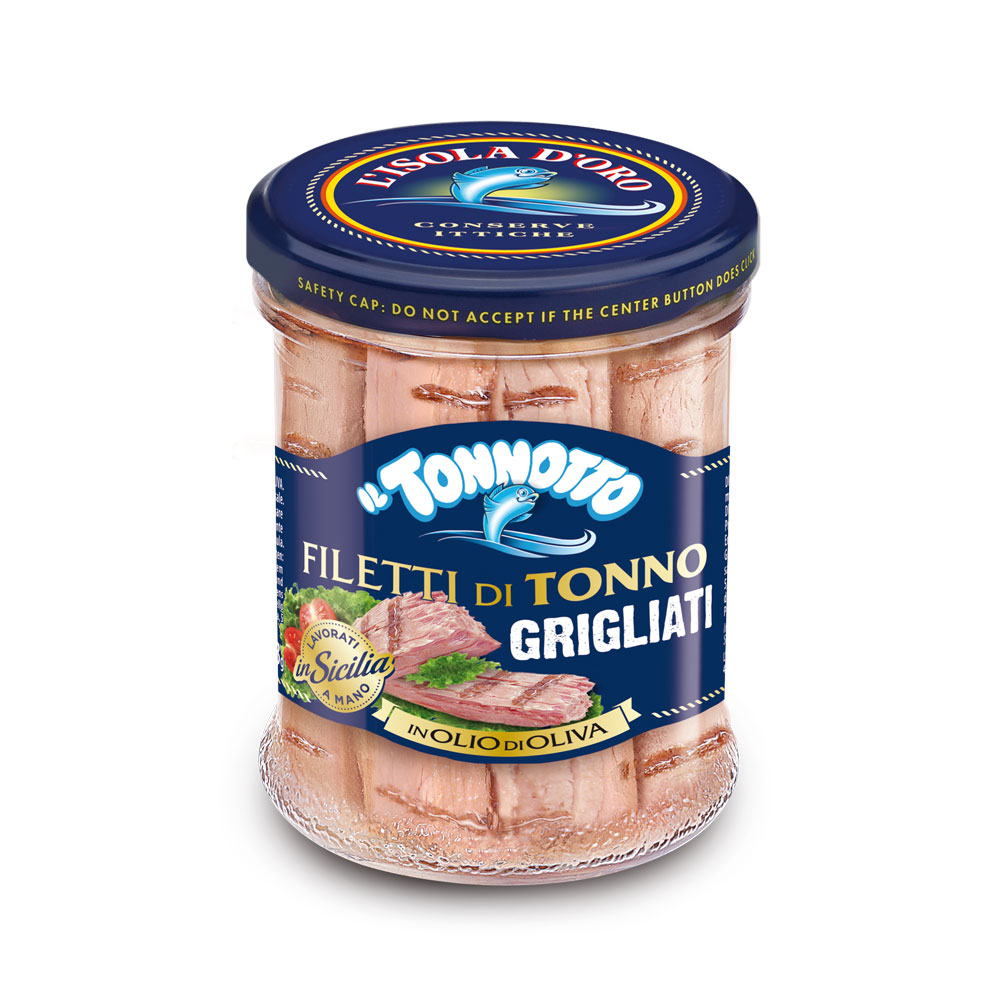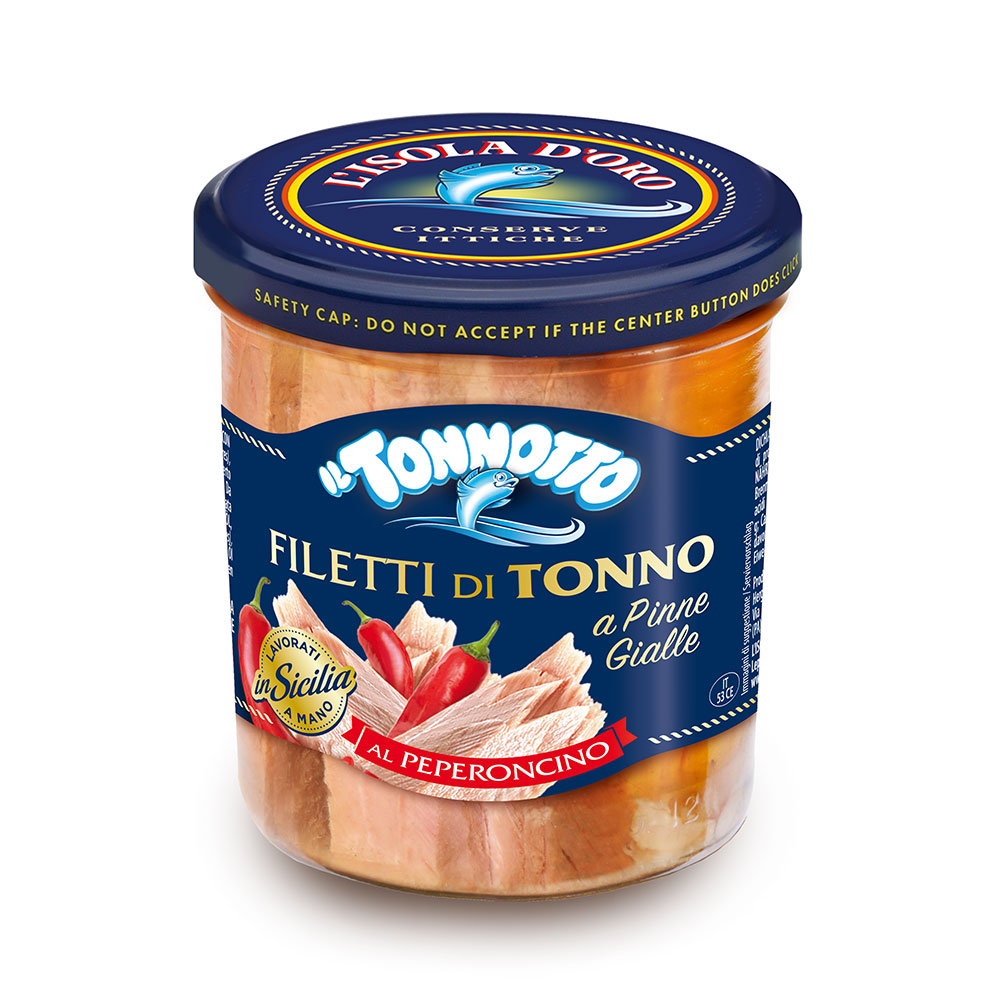 Tonnotto
with red hot chili pepper 190 g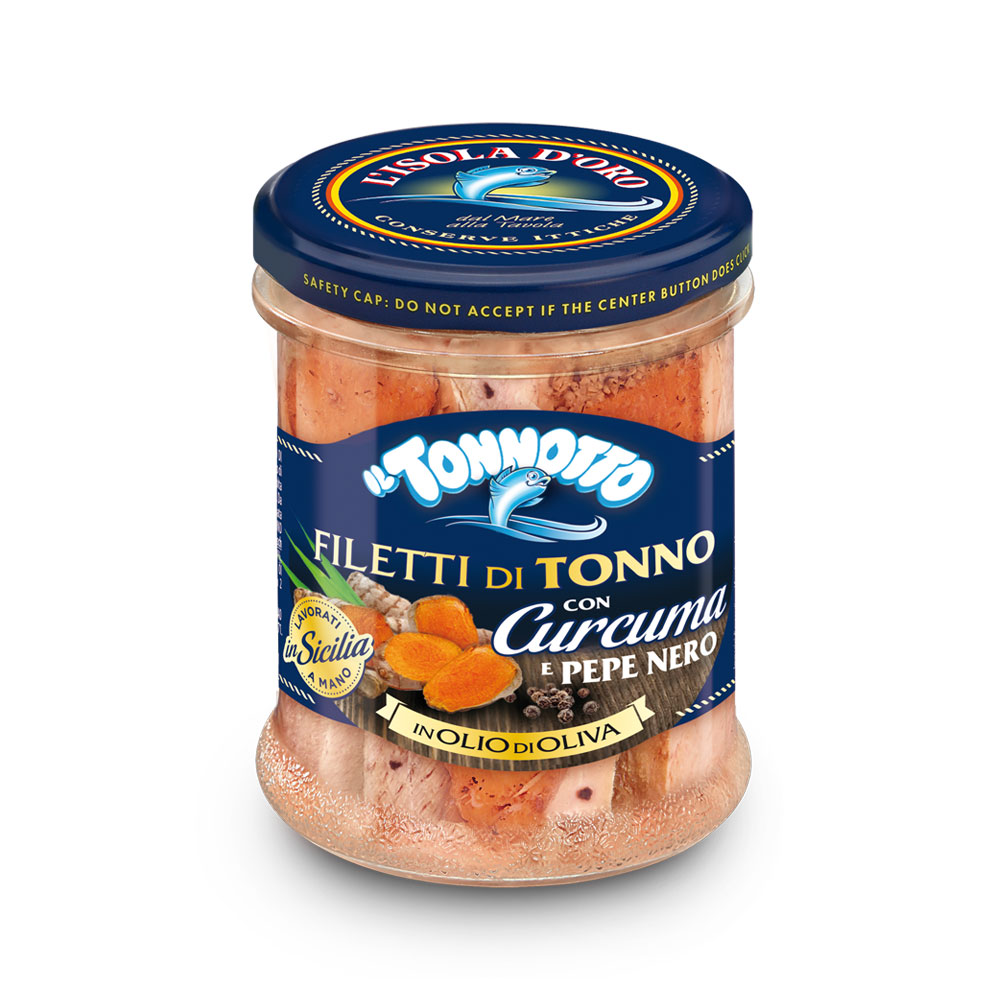 Tonnotto Turmeric and
Black Pepper 190 g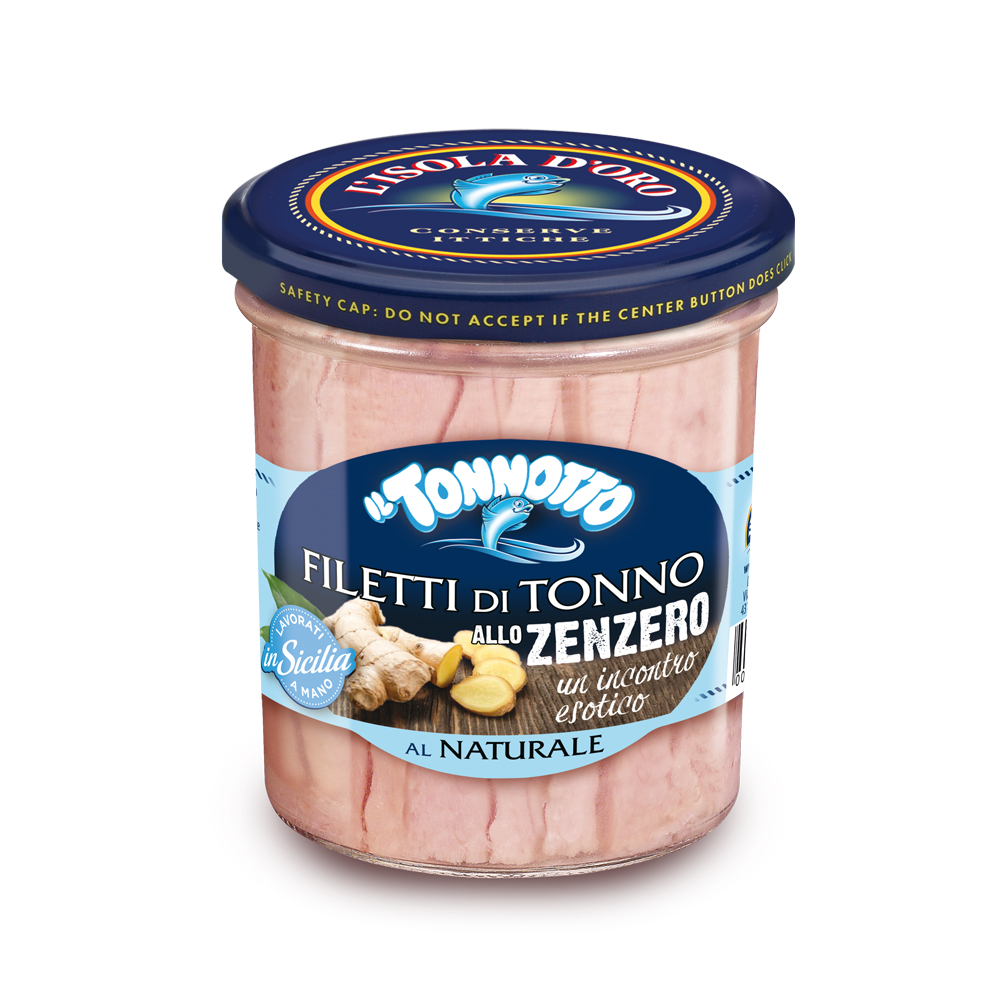 Tonnotto
with ginger 190 g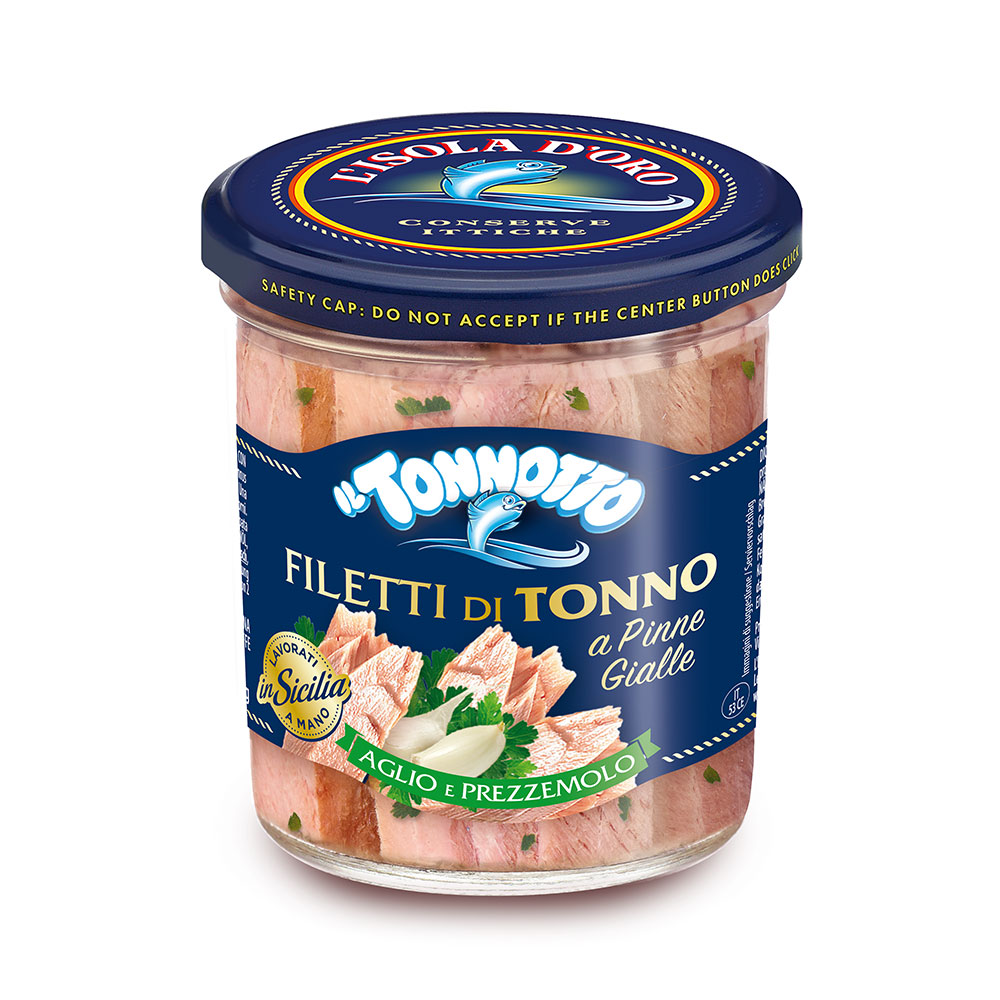 Tonnotto
garlic and parsley 190 g
Very soft slices of tuna preserved in olive oil to keep all their flavor.
Perfect for quick snacks, suitable for every need and every type of dish, from appetizer to main course, always fragrant and ready to use according to your imagination.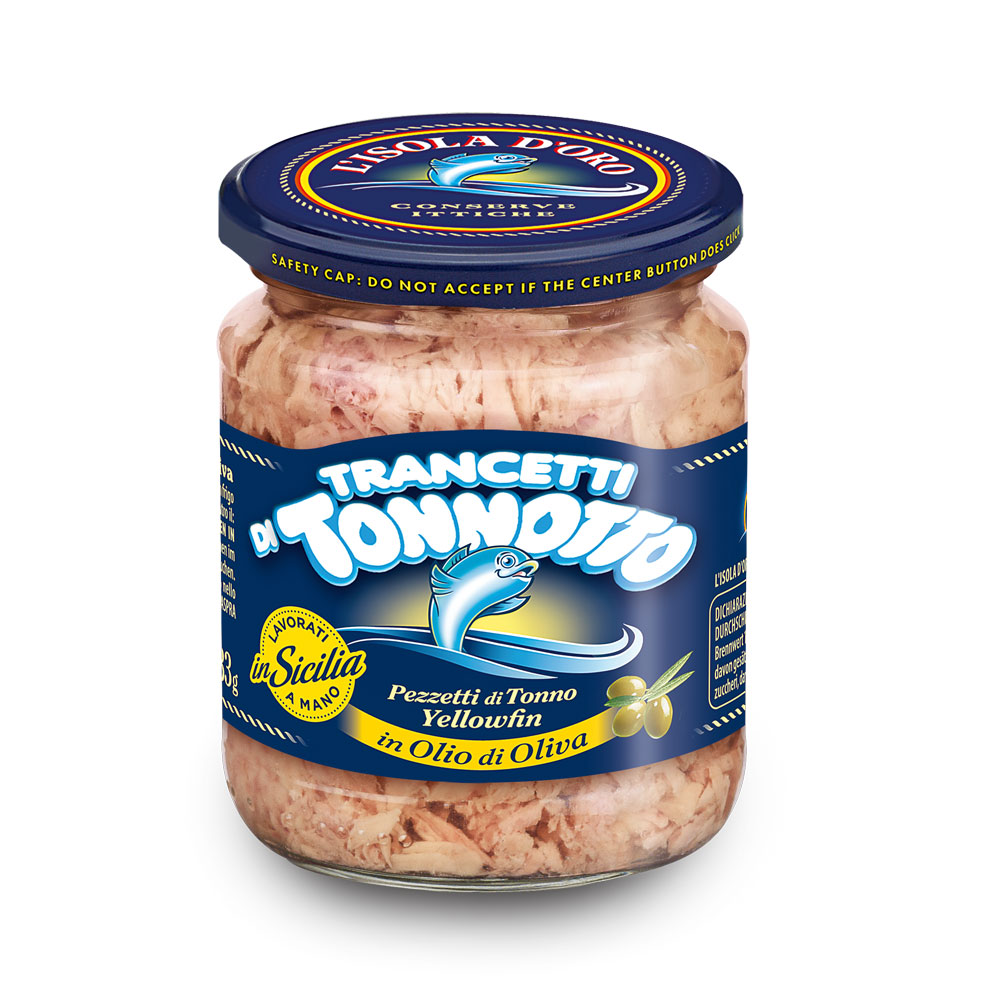 Tuna slices
in olive oil 190 g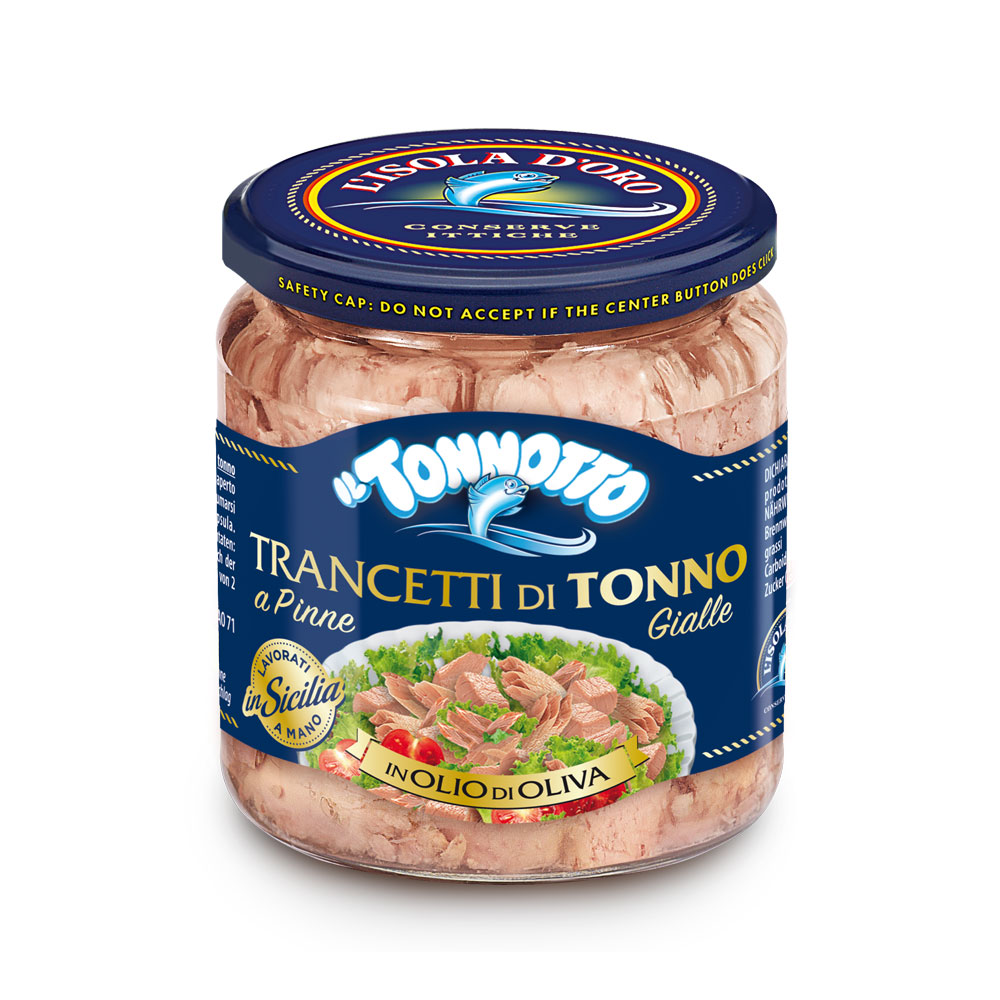 Tuna slices
in olive oil 270 g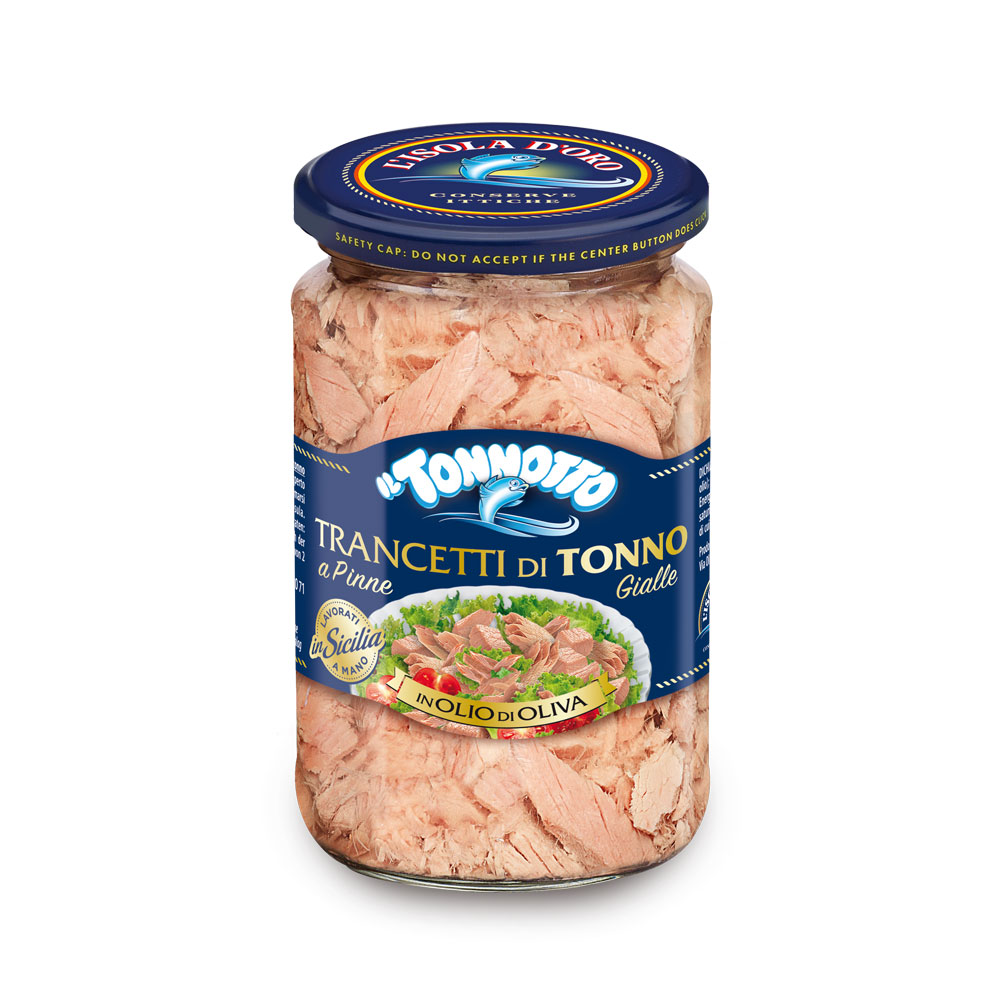 Tuna slices
in olive oil 300 g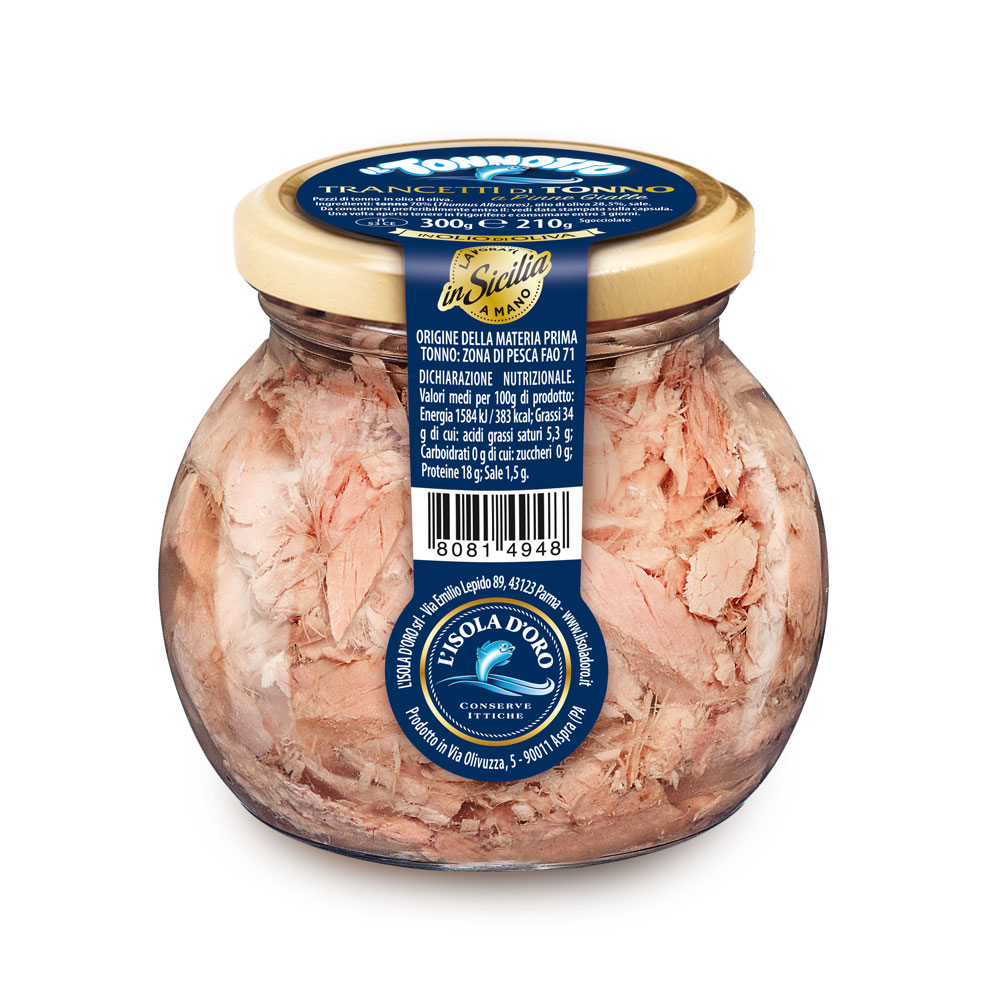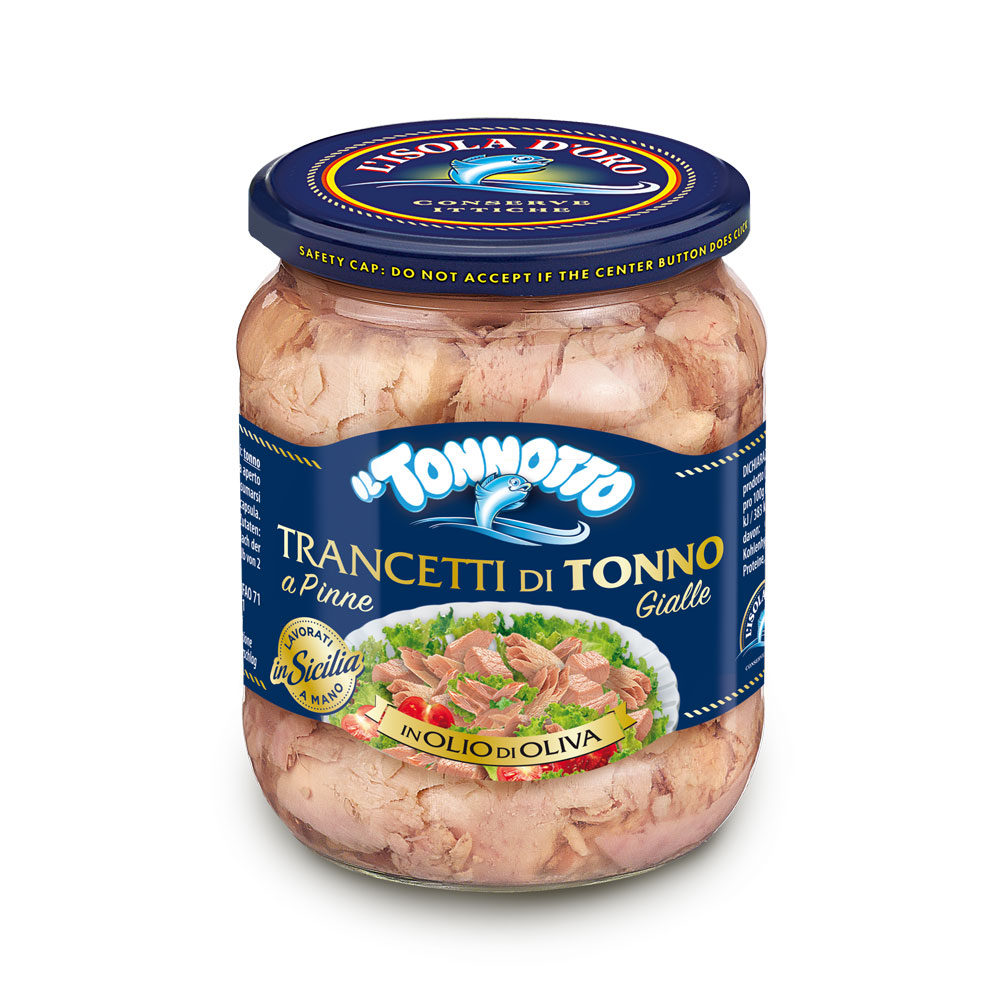 Tuna slices
in olive oil 540 g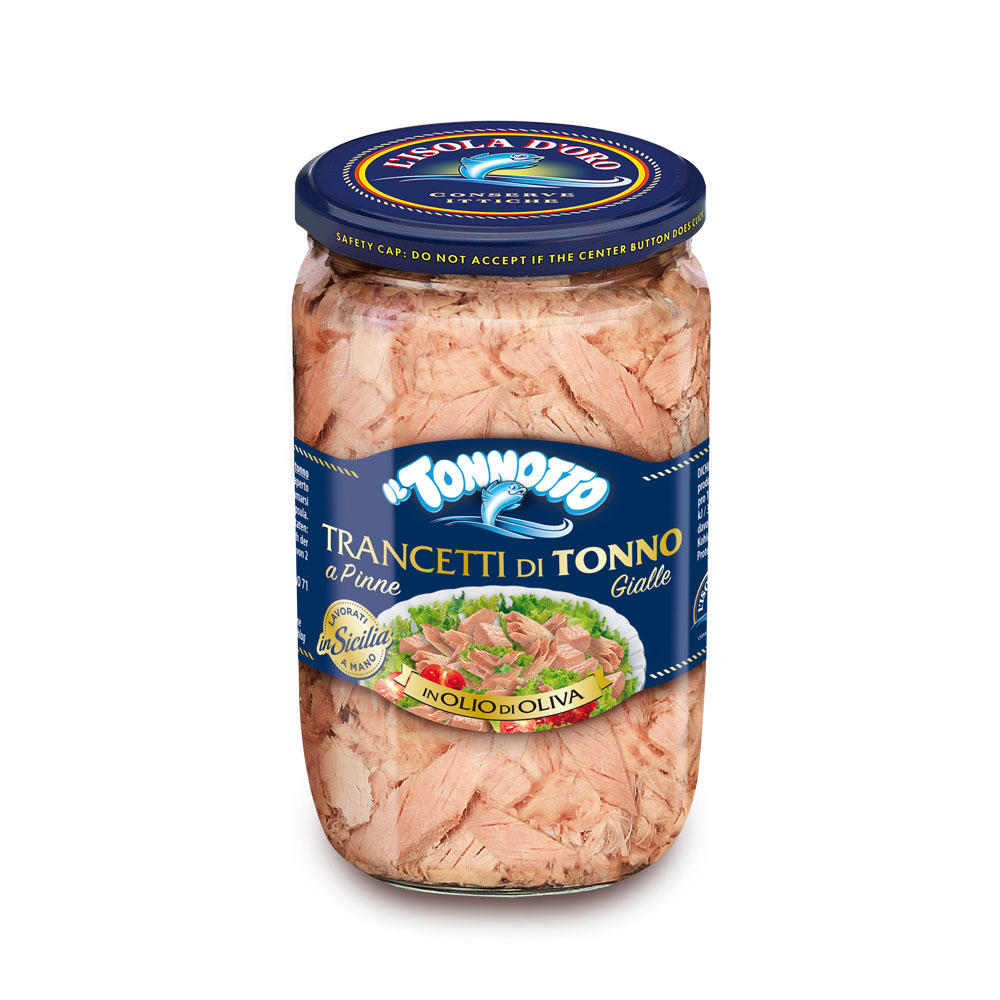 Tuna slices
in olive oil 700 g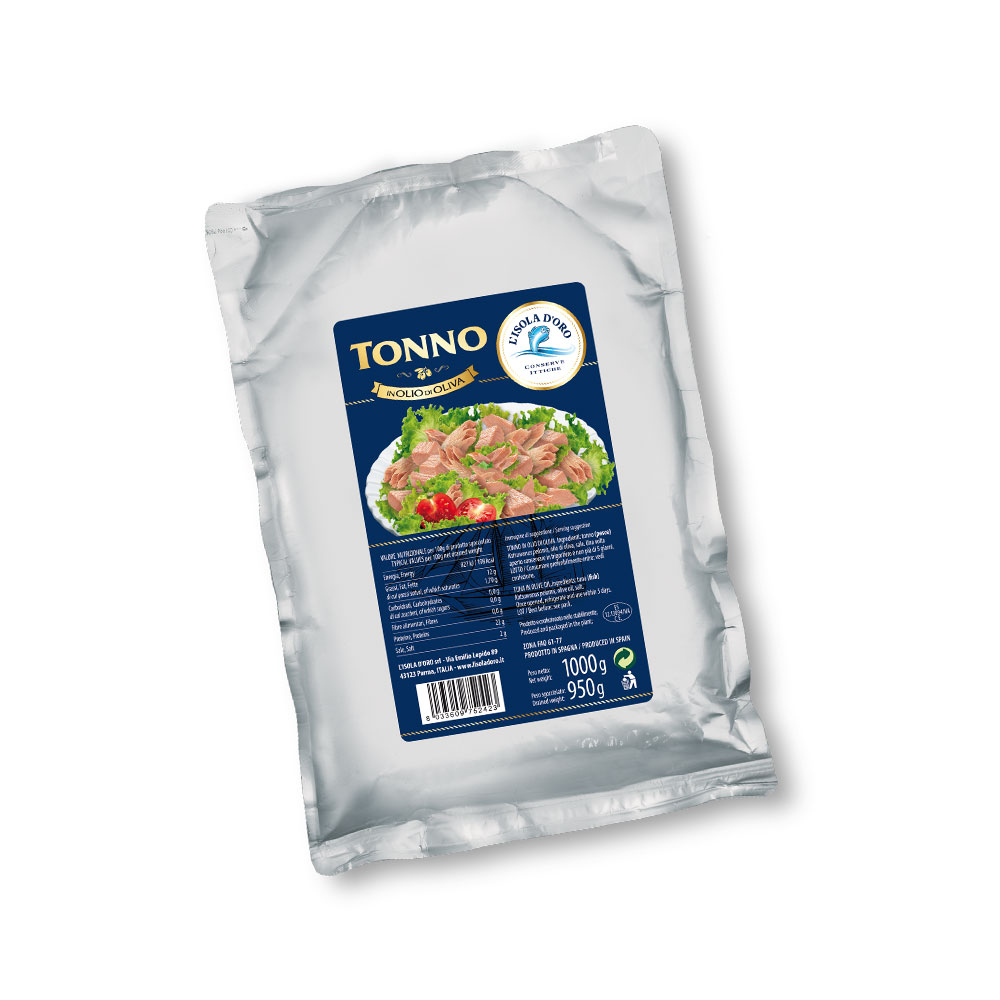 Tuna slices
in olive oil 1000 g