CANTABRIAN SEA ANCHOVIES
All the goodness of the Cantabrian Sea anchovies
to taste as you like it
L'Isola D'Oro Cantabrian Anchovies are a 100% Italian product. Cantabrian Aliciotte are rich in Omega3, Gluten free and Gmo free.
We use first quality row material only, respecting the ecosystem and oceanfloor, according to the agreement with Friend of the Sea and MSC.
Our anchovies filets are are enterely worked by hand and placed one by one in their containers in the oil.
Fleshy, refined and exquisite, they may be enjoyed in several dishes, gourmet recipes,on a pizza or on a buttered slice of bread.
We offer a large choice of traditional tools as well as innovative ones directly tuned to meet customers' desires and demands,
both outdoor and home needs.
Our catalogue lines are oriented to the retail as well as to horeca markets.
Our business story is based on transparency which is immersed in thousand-year old Italian culture and tradition.
The same that has been driving us for 70 years.
THAT EXTRA TOUCH
IN EACH OF YOUR DISHES
Fish from the Cantabrian Sea offers the full and unique flavour of excellence!
With the world's most valuable anchovies, the Cantabrian ones, L'Isola d'Oro produces both salted anchovies, and desalted fillets processed by hand and laid in elegant packs in olive oil.
An absolute delight to be chosen in the version that best meets your taste and needs.
Anchovies from the Cantabrian Sea are good, fleshy and tender; enjoy them on a hot slice of buttered bread or cook with to make every recipe special.
You'll never have enough!
CANTABRIAN ANCHOVIES FILLETS IN OLIVE OIL
From the famous Spanish premium anchovies, here are the delicious anchovy fillets processed by hand in Italy
according to the ancient Italian maritime tradition.
Placed one by one in olive oil in fine packaging, they can be purchased in the best supermarkets or on the L'Isola D'Oro online shop.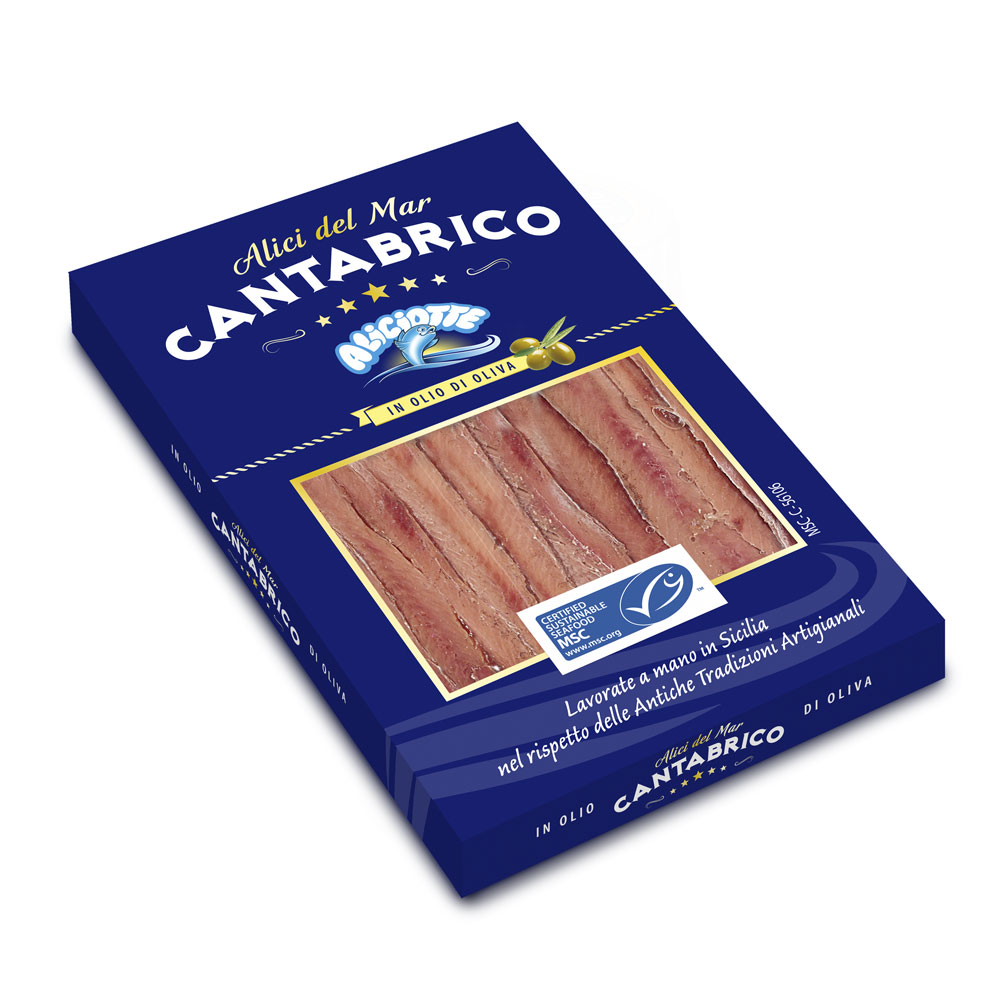 Cantabrian Sea anchovies 70 g
Grilled Cantabrian Sea
anchovies 70 g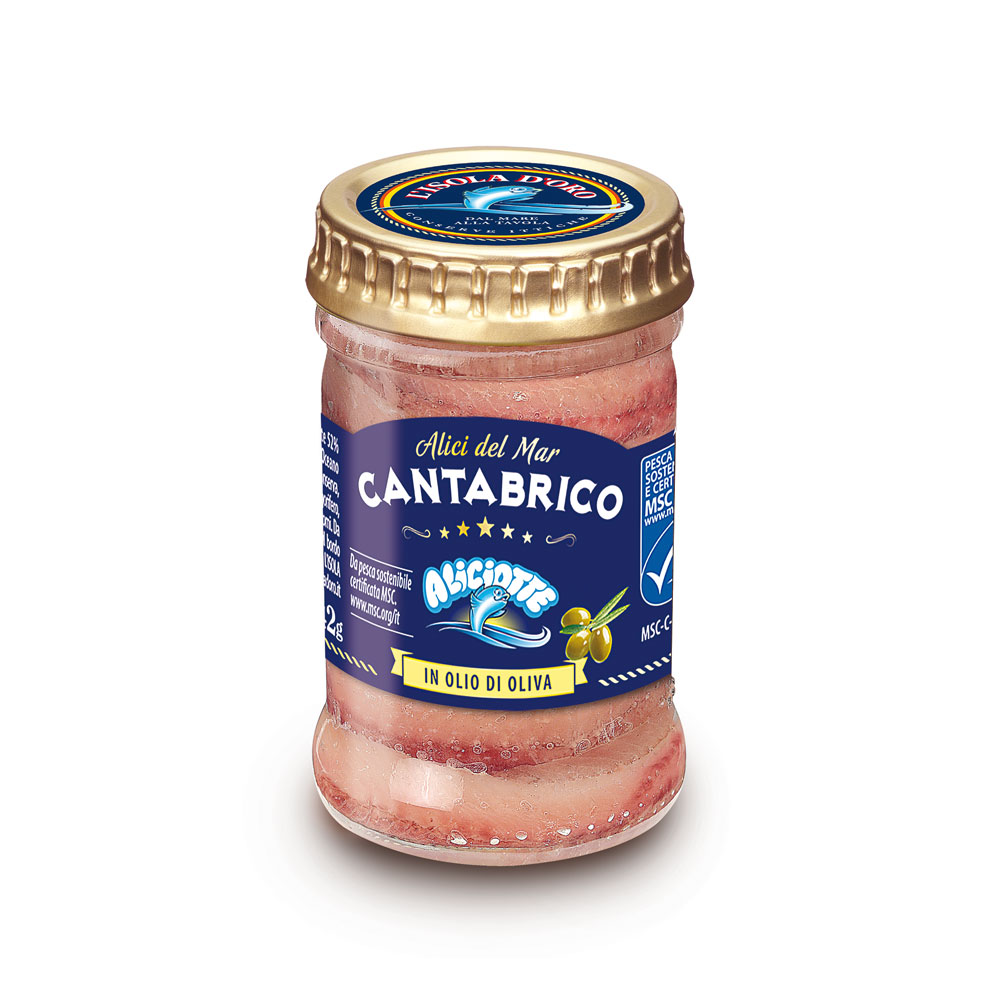 Cantabrian Sea anchovies 80 g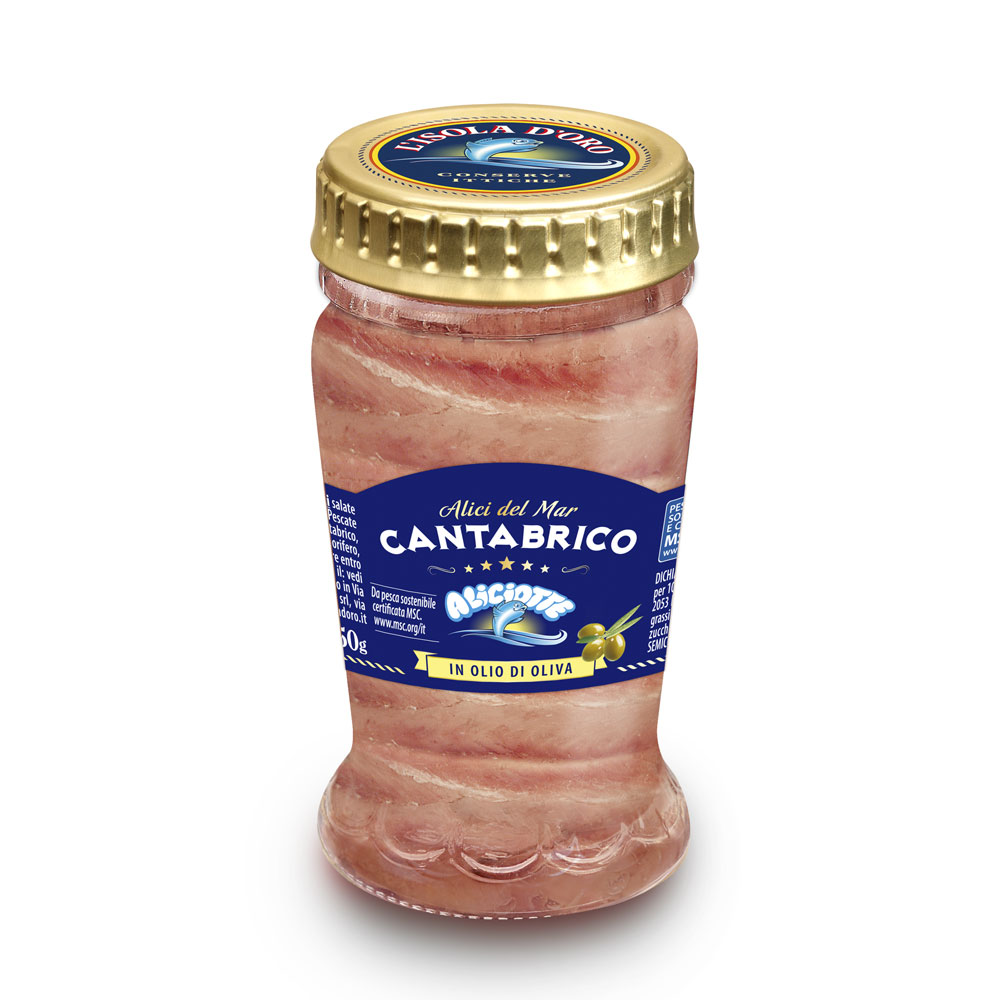 Cantabrian Sea anchovies 90 g
Cantabrian Sea anchovies 200 g
Large formats for large consumption; always handmade in Italy with premium Cantabrian fillets.
Quality is always at the center of our catering and retail.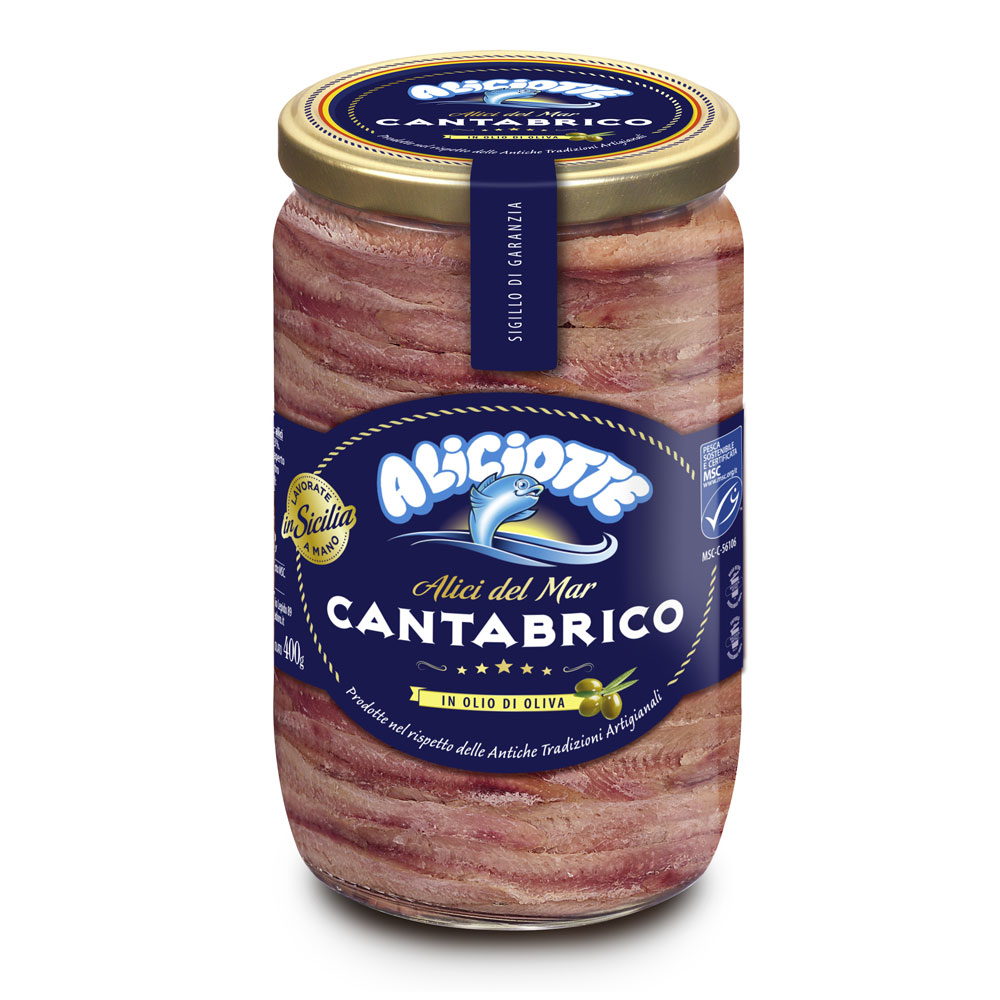 Cantabrian Sea anchovies 700 g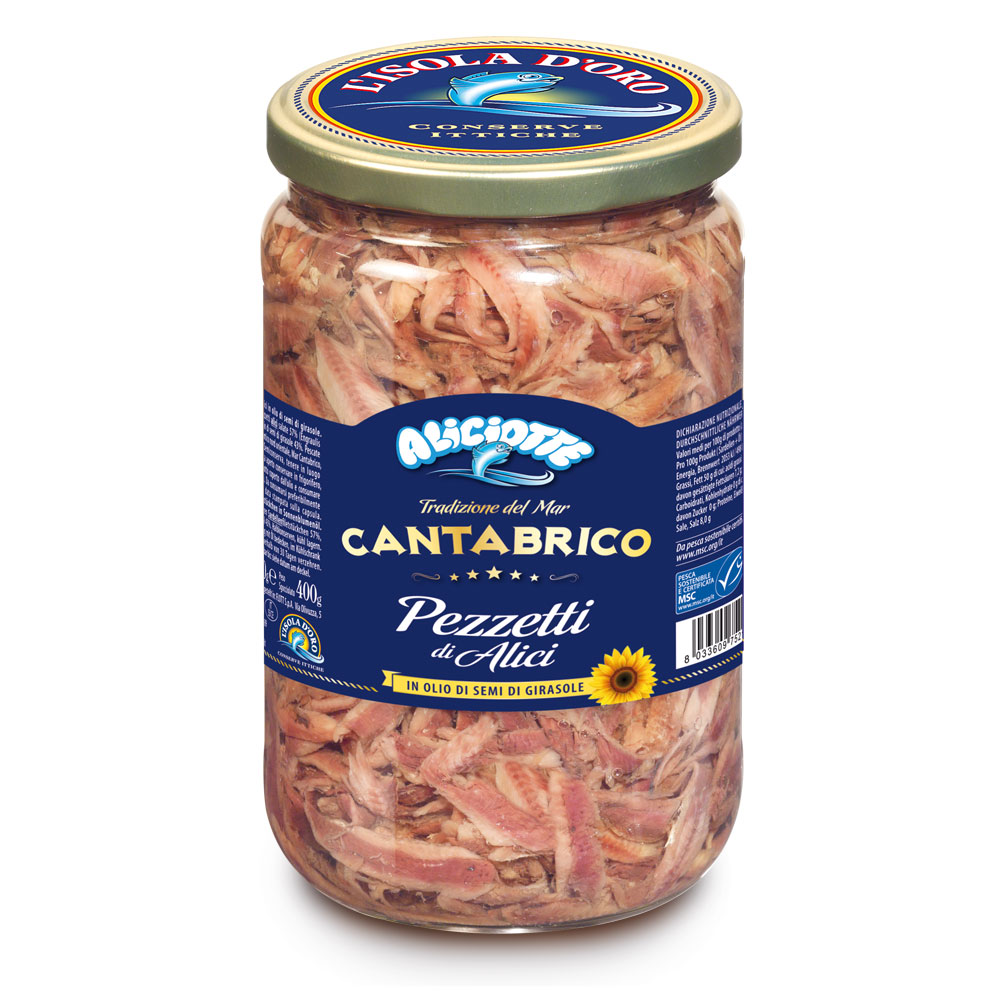 Cantabrian Sea anchovies
pieces 700 g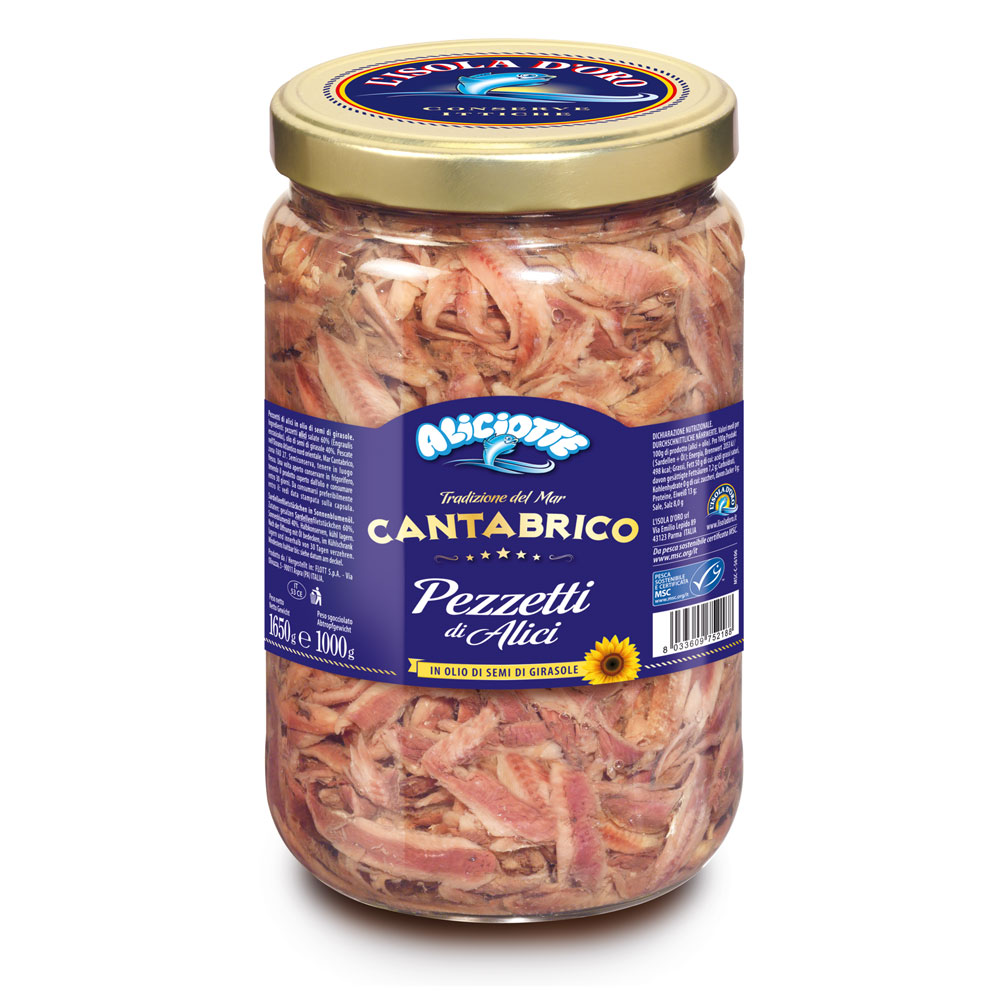 Cantabrian Sea anchovies
pieces 1650 g
The salt with the Cantabrian catch is a gourmet delight. Try it in the wide selection of L'Isola D'Oro offerings.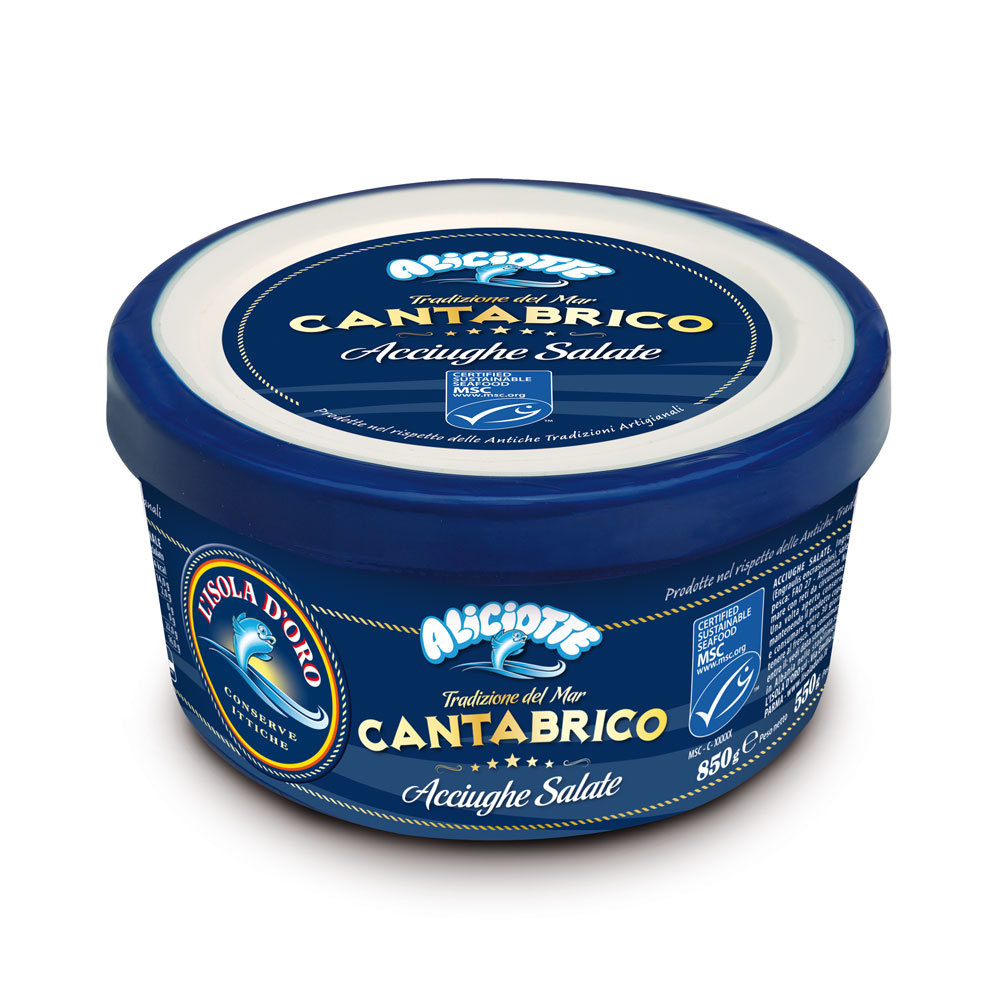 Salted Cantabrian Sea
anchovies 850 g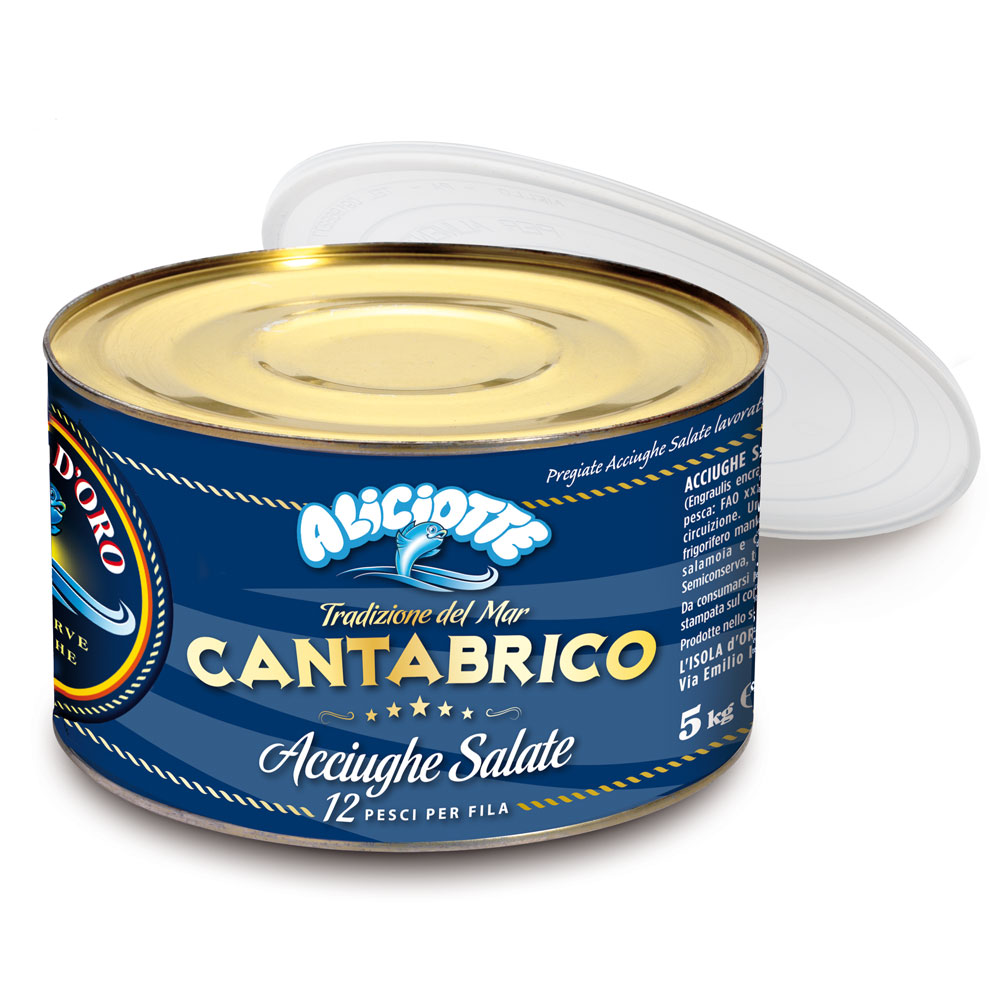 Salted Cantabrian Sea
anchovies 5 kg
12 fish per row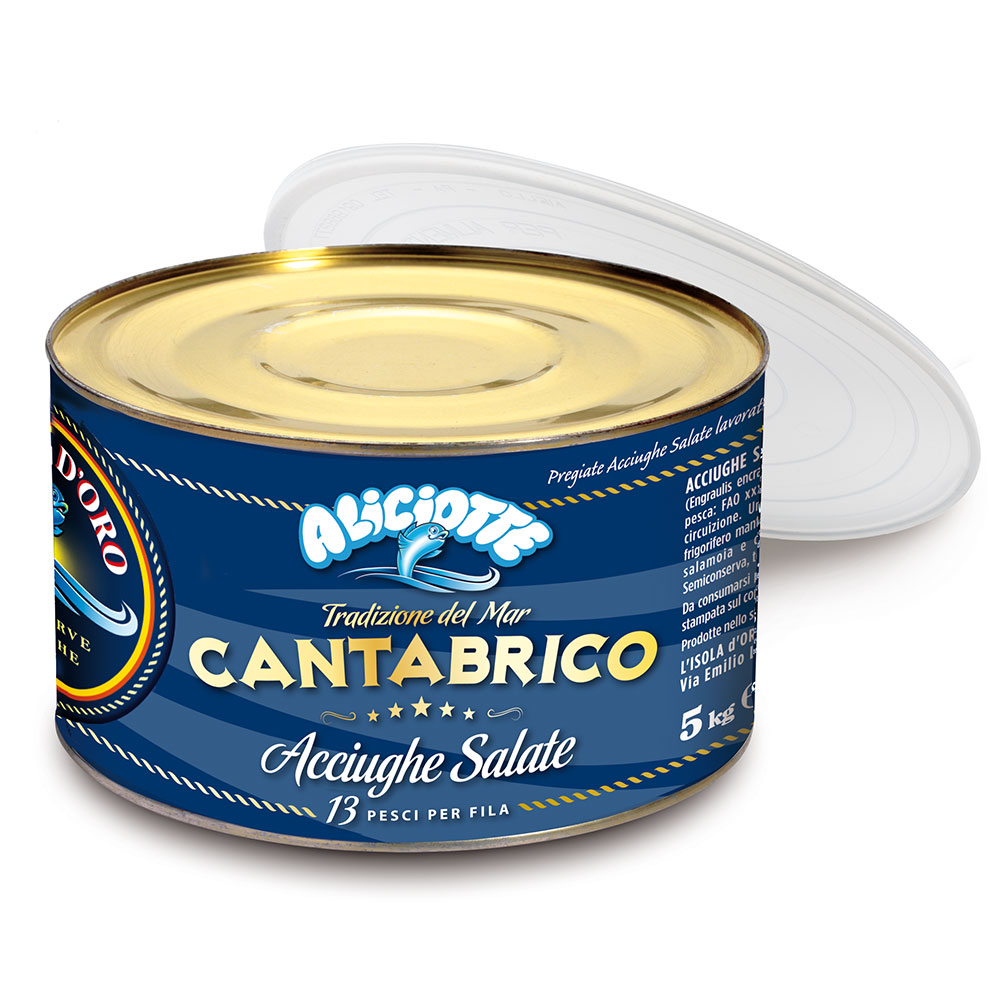 Salted Cantabrian Sea
anchovies 5 kg
13 fish per row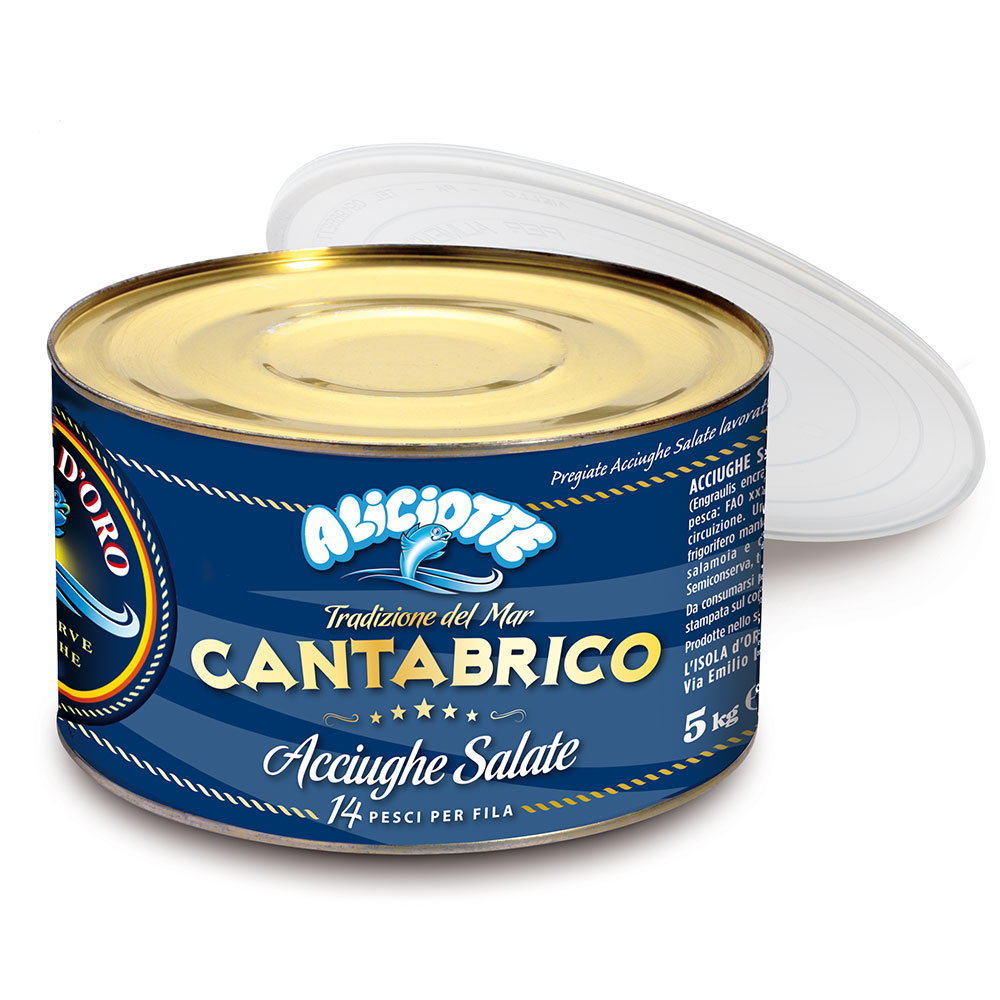 Salted Cantabrian Sea
anchovies 5 kg
14 fish per row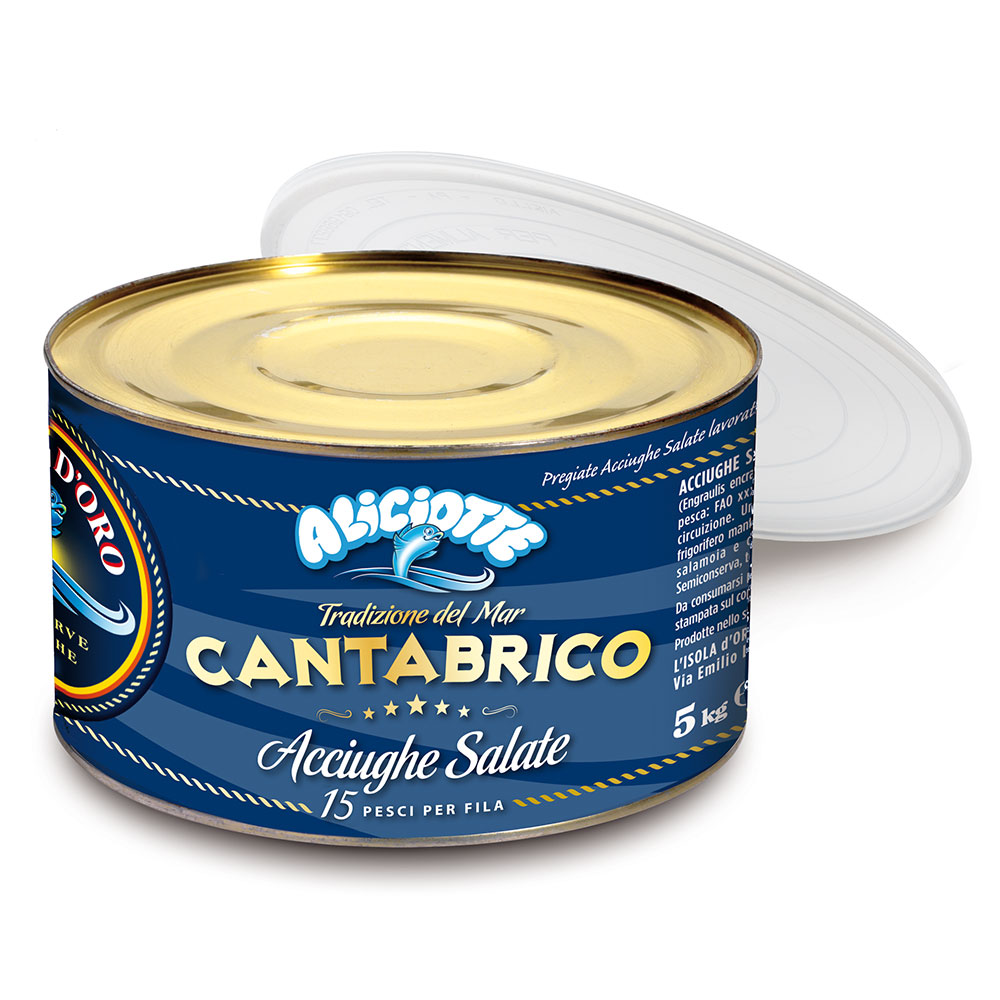 Salted Cantabrian Sea
anchovies 5 kg
15 fish per row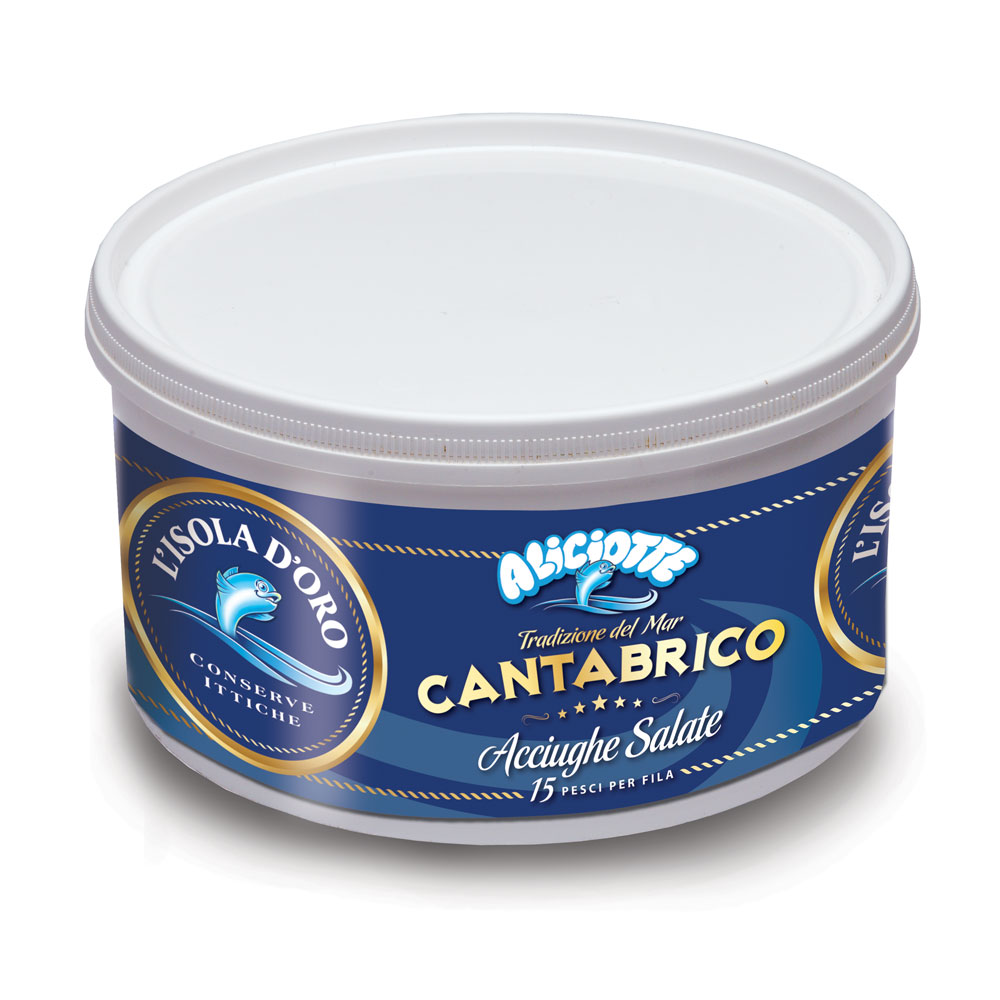 Salted Cantabrian Sea
anchovies 5 kg
15 fish per row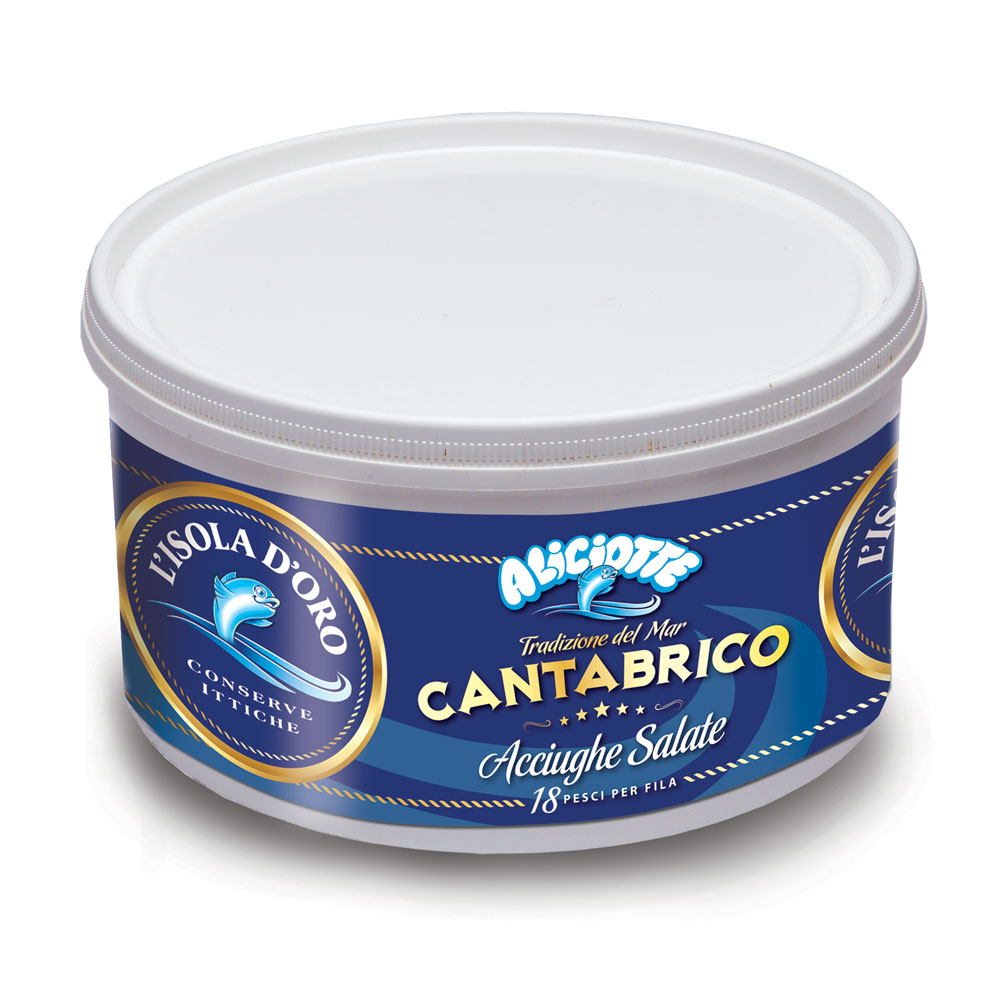 Salted Cantabrian Sea
anchovies 5 kg
18 fish per row