ALICIOTTE
All the goodness of Anchovies
to taste as you want them
L'Isola D'Oro anchovies are a 100% Italian product.
Aliciotte are rich in Omega3, Gluten free and Gmo free.
We use first quality row material only, respecting the ecosystem and oceanfloor,
according to the agreement with Friend of the Sea and MSC.
Our anchovies filets are are enterely worked by hand and placed one by one in their containers in the oil.
Pulpy and juicy, flat or rolled, even enriched with herbs and spicies, they may be enjoyed in several dishes,
on a pizza or on a buttered slice of bread.
We offer a large choice of traditional tools as well as innovative ones directly tuned to meet customers' desires and demands,
both outdoor and home needs.
Our catalogue lines are oriented to the retail as well as to horeca markets.
Our business story is based on transparency which is immersed in thousand-year old Italian culture and tradition.
The same that has been driving us for 70 years.
ALWAYS PERFECT, WHETHER IT'S A QUICK SNACK OR A COMPLEX RECIPE
L'Isola D'Oro, tender and aromatic anchovy fillets are desalted, cleaned with care by hand according to the authentic Italian fish preserve tradition.
Put by hand, one by one, in the retail and food service packs, they are preserved in oil to keep their aroma, wholesome flavour and the best organoleptic features.
To taste always, on one's own or with others, as lunch, snack and dinner, enjoying their flavour paired with a good wine.
Aliciotte are excellent also to create delicious starters. A practical way to come up with quick salads, simple dishes or refined recipes.
Aliciotte are used in the kitchen to "bind" white fish and vegetables, they are amazing with bread, focaccia and freshly baked pizza."
Anchovies fillets in olive oil
The soft and fragrant fillets of anchovies L'Isola D'Oro are desalted, de-boned and cleaned by hand and with care according to tradition. Carefully placed in glass jars, they are perfectly preserved in olive oil, in order to keep their scent, their genuine flavor and all their organoleptic properties unaltered.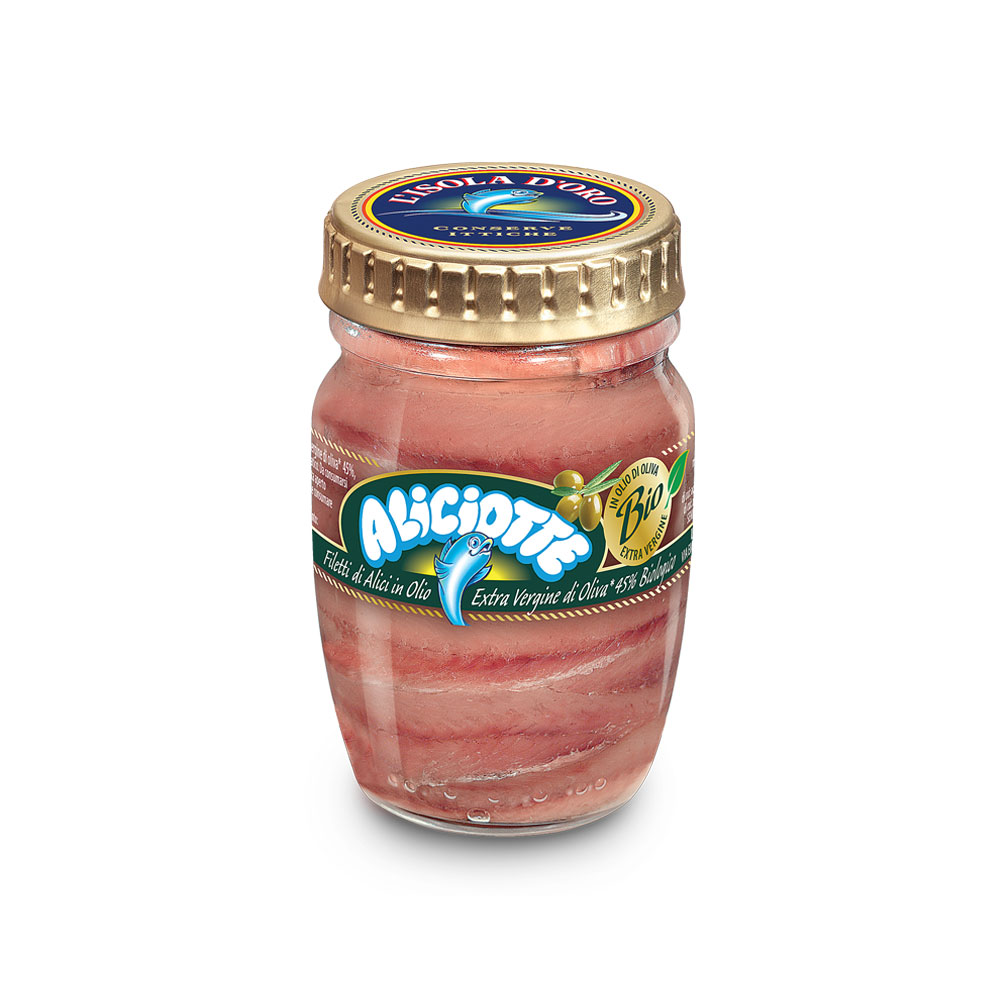 Aliciotte in organic olive oil 90 g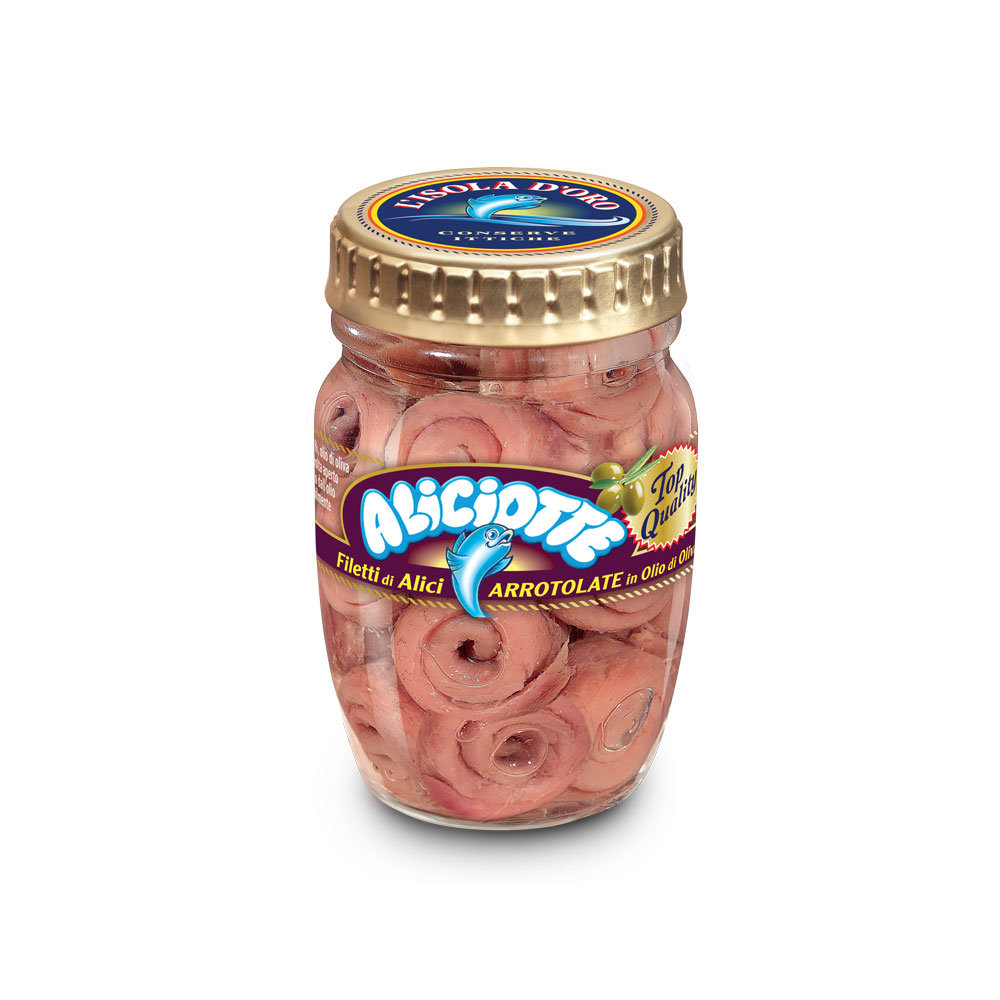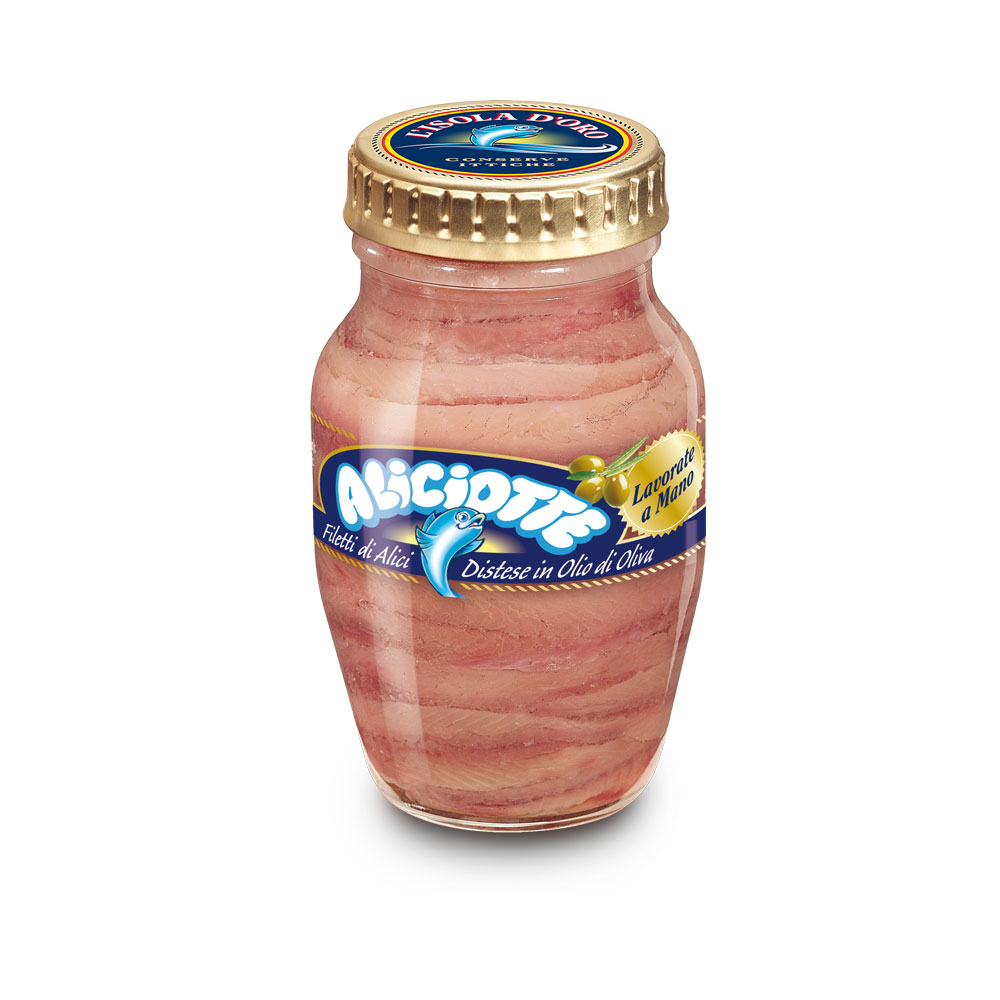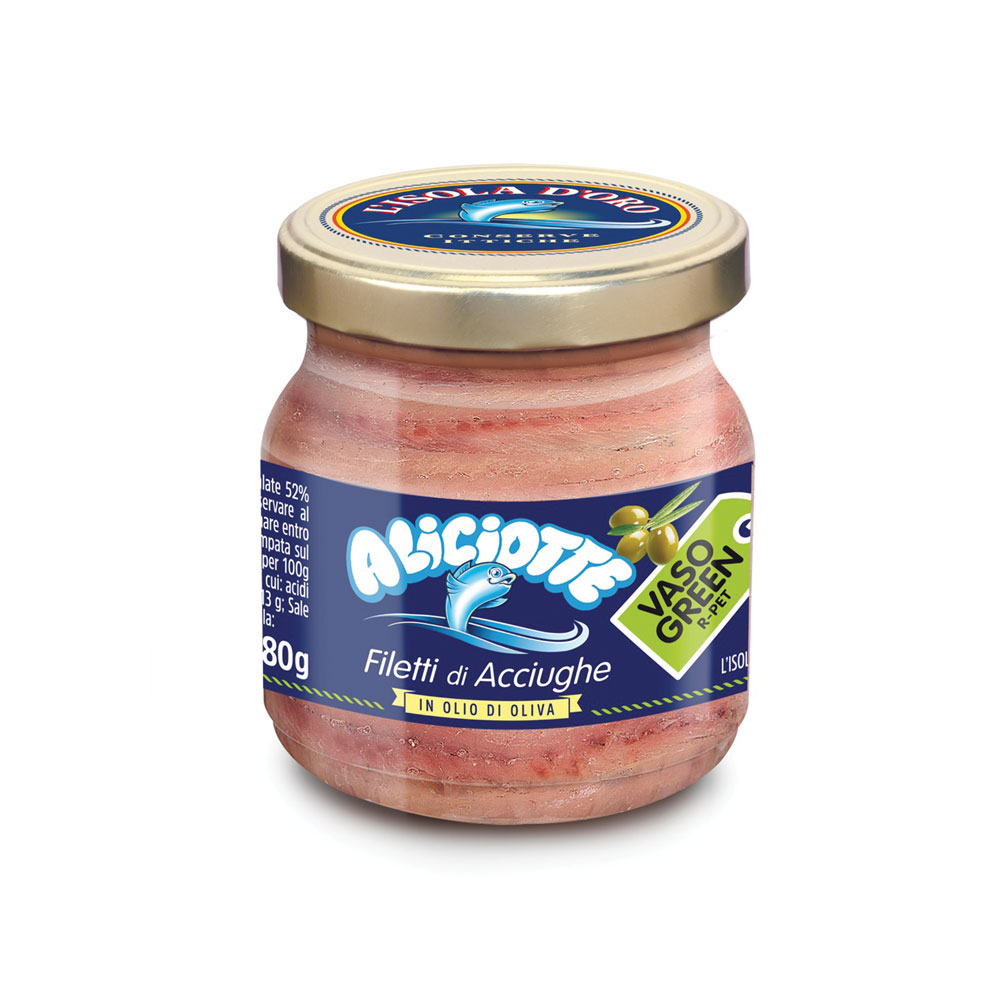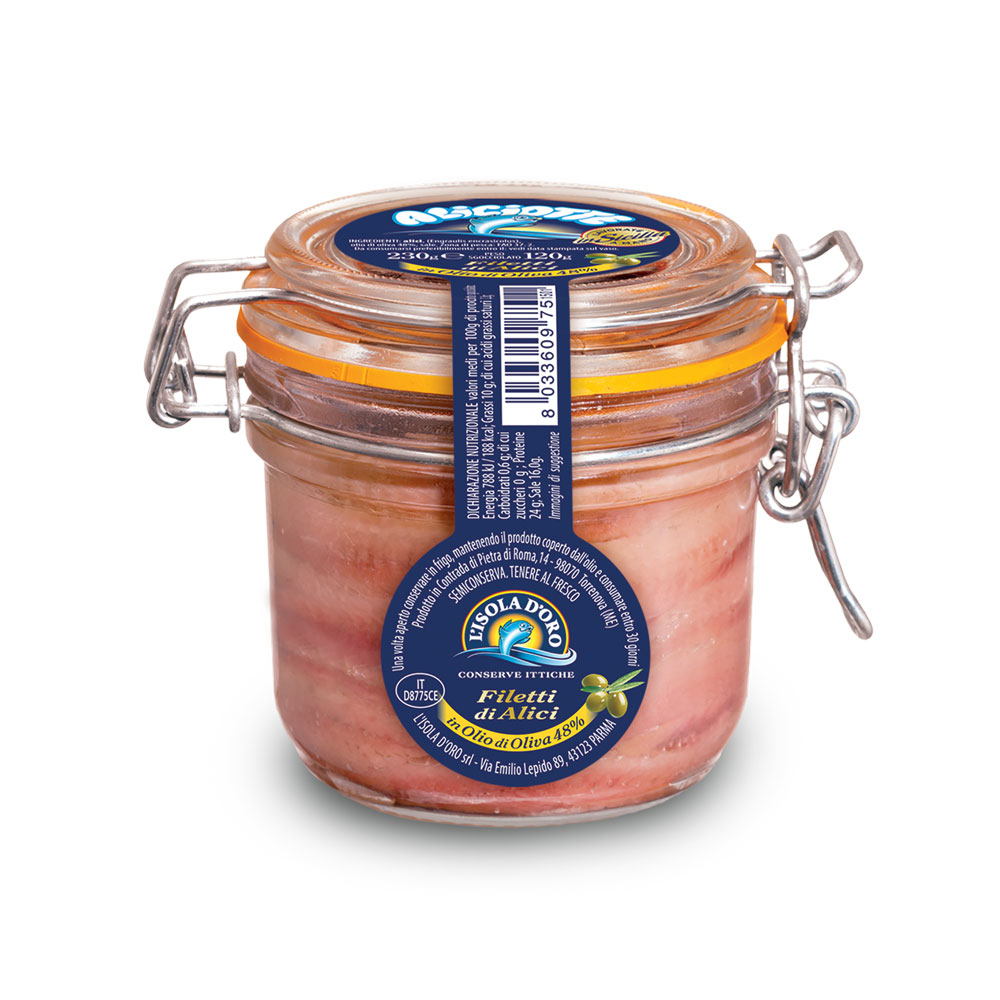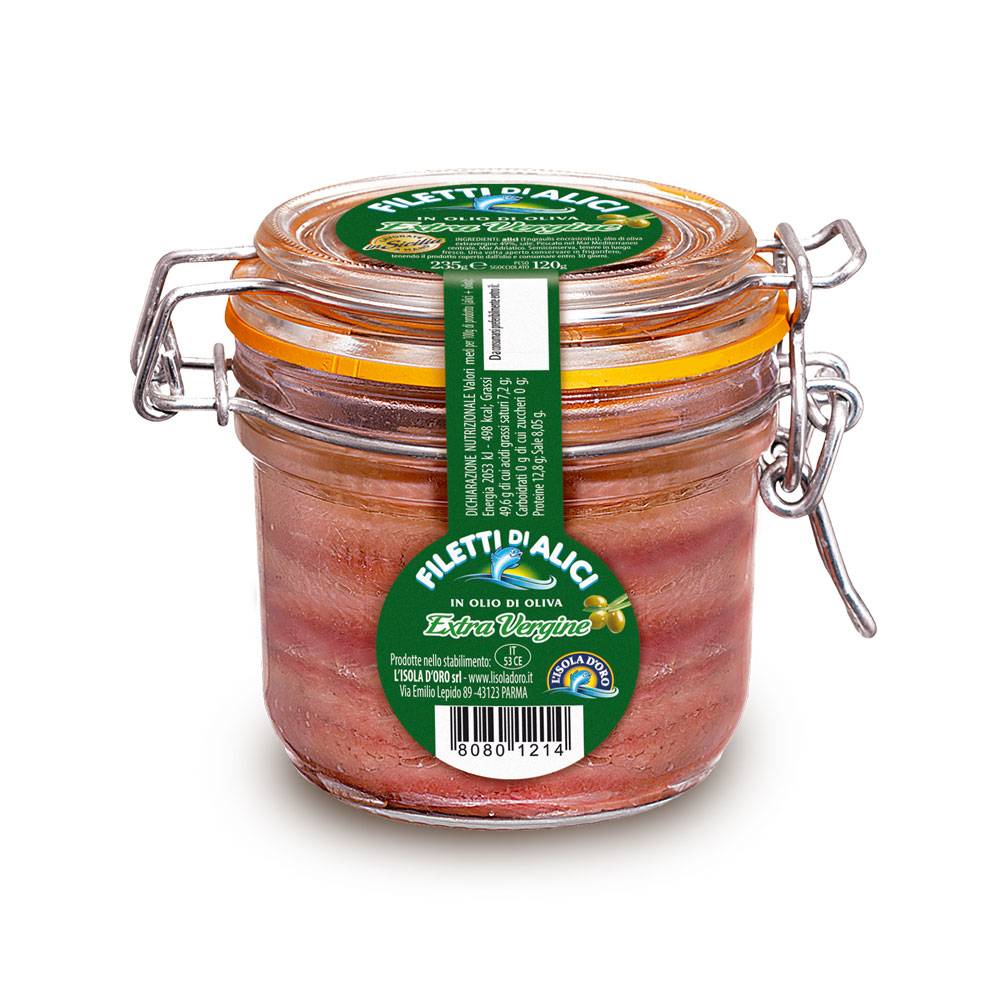 Aliciotte in organic olive oil 230 g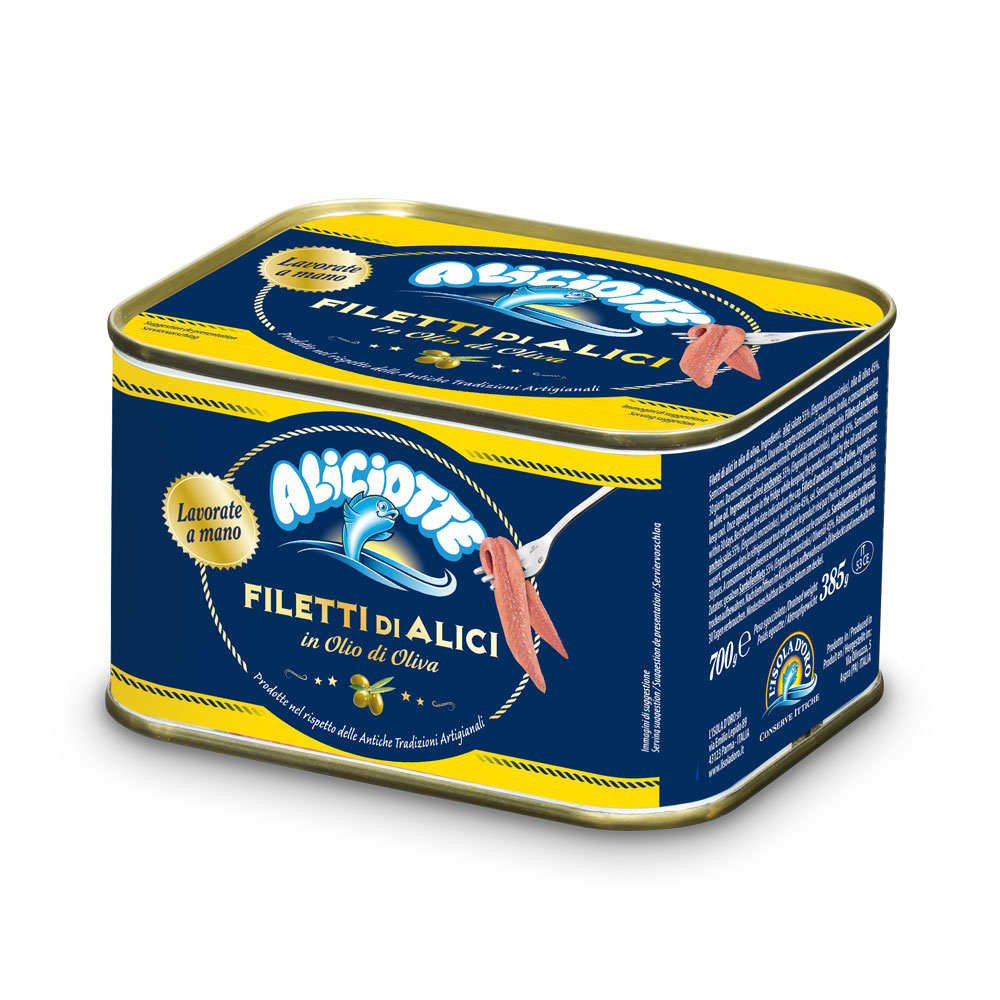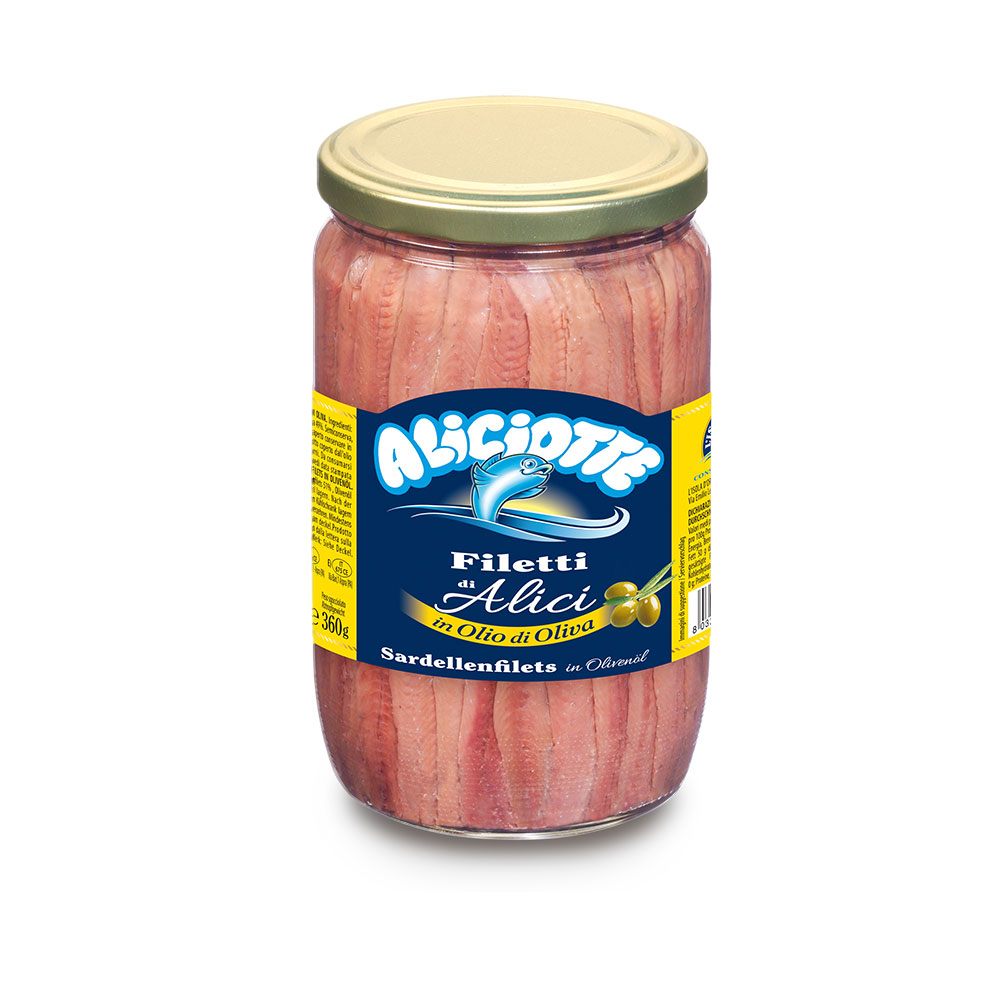 GOURMET

ANCHOVIES FILLETS
Dal tocco esotico dello zenzero fino allo sfizioso "friccicore" del peperoncino. Le Aliciotte gourmet regalano sempre un tocco diverso ed originale ai tuoi piatti, che si tratti di uno snack veloce o di una ricetta elaborata.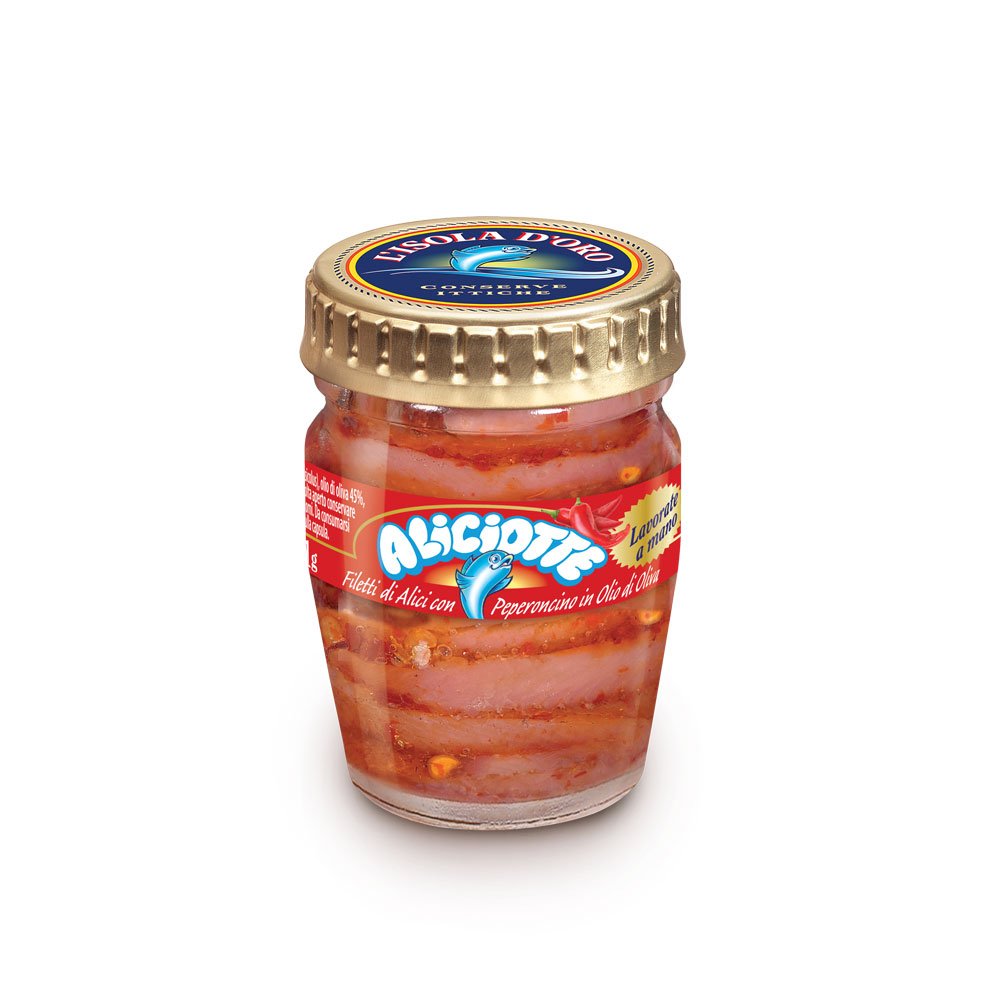 Aliciotte
with red hot chili pepper 58 g
Aliciotte

with red hot chili pepper

90 g
Aliciotte

with red hot chili pepper


in organic olive oil 90 g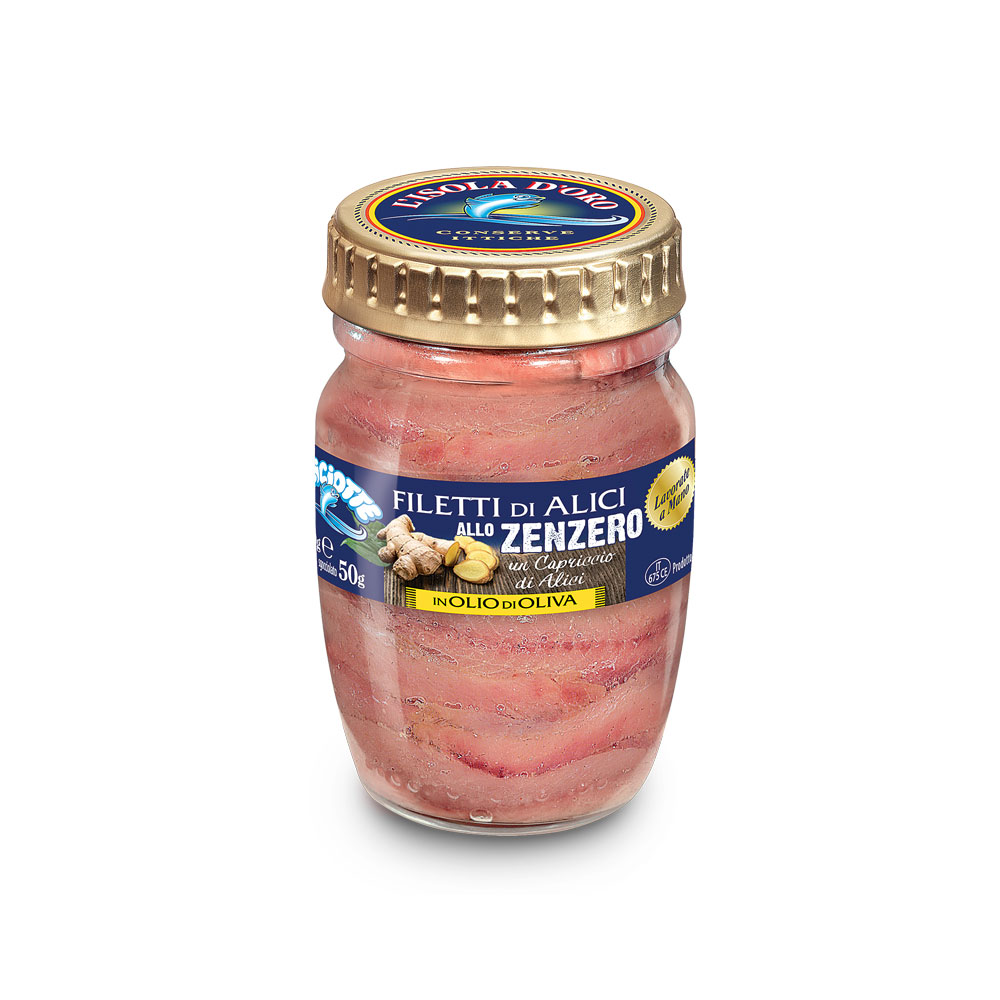 Aliciotte
with ginger 90 g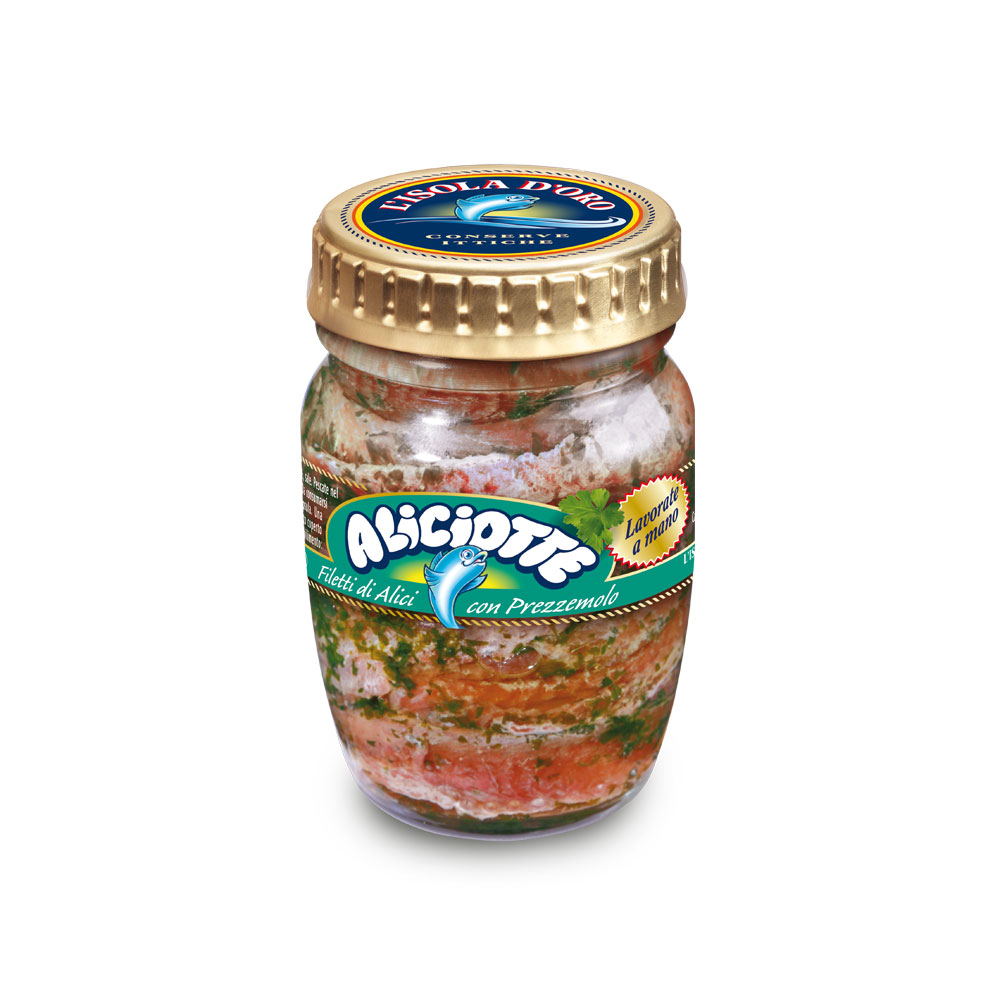 Aliciotte
with parsley 90 g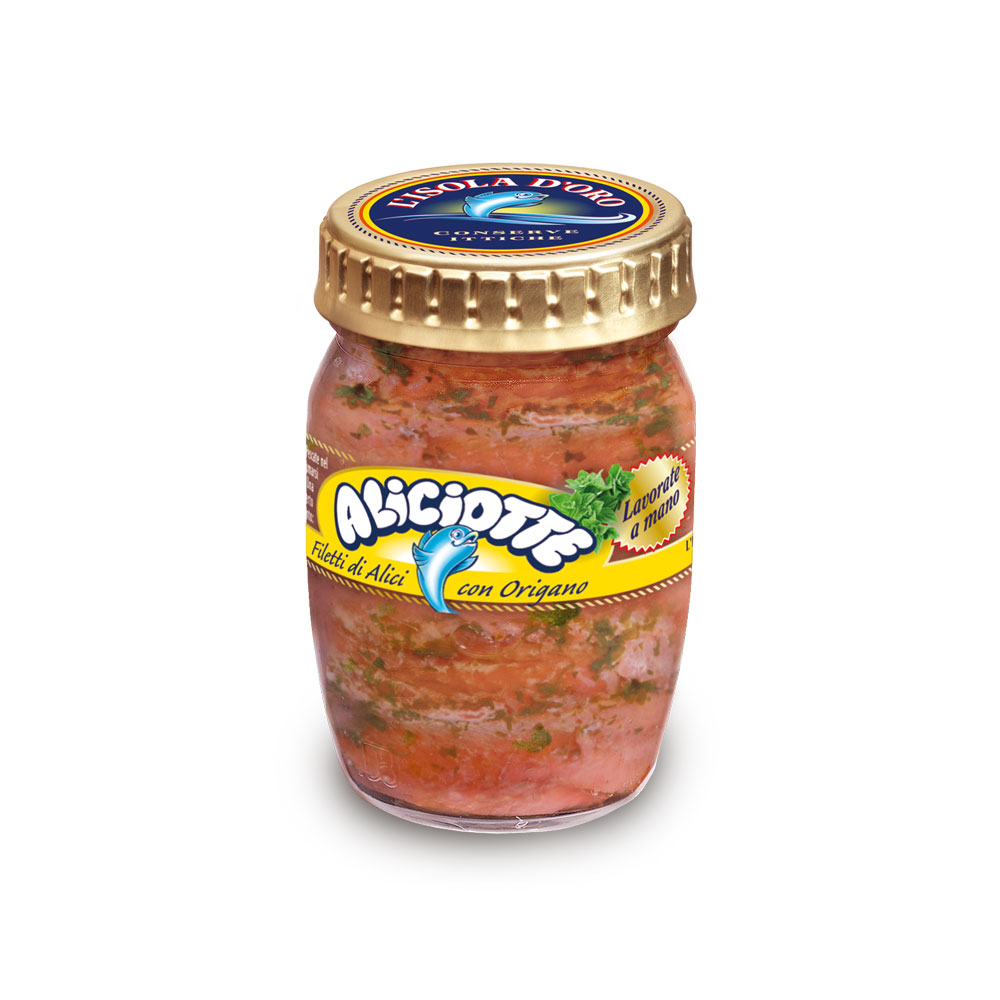 Aliciotte with oregan 90 g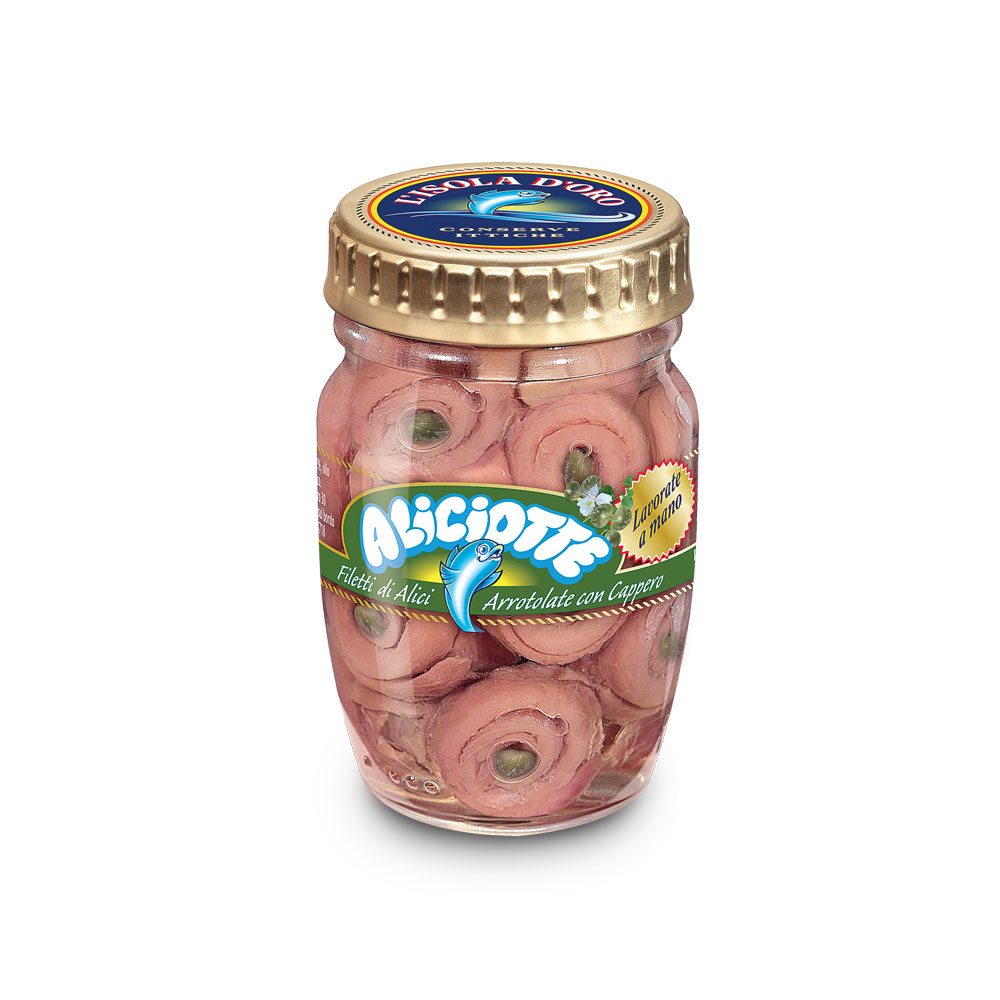 Rolled Aliciotte
with capers 90 g
ANCHOVIES FILLETS IN SUN FLOWER OIL
Tasty, soft and pulpy anchovies filleted by hand and left to rest in sunflower seed oil, to give a more delicate taste to this precious gift of the sea, while keeping their aroma and organoleptic qualities unaltered. Also available in the practical and economical chopped version.